MSIS Student Sarah Calise Founds Nashville Queer History Digital Archive, Lands Deal to Write First Book on Nashville's LGBTQ+ History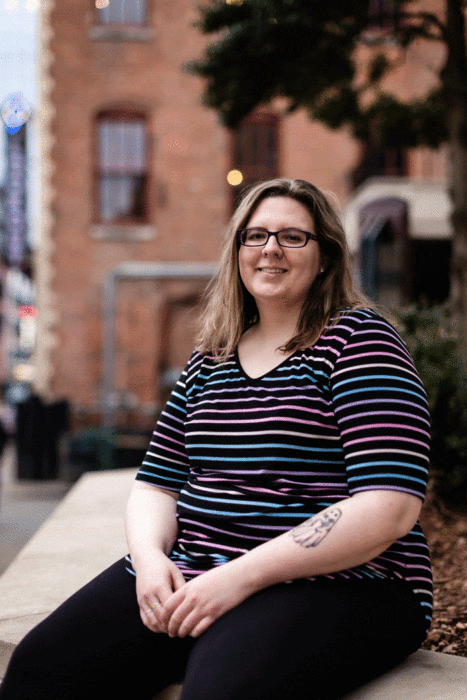 It's easy to forget history, but even more so if no one preserves it. Sarah Calise, an archivist and a student in the School of Information Sciences master's program, is someone who specializes in preservation. So when they saw the history of Nashville's LGBTQ+ community slowly slipping away, they also saw an opportunity to make a lasting difference. Now they are at the helm of a significant digital archives project called Nashville Queer History, and they are writing the first book ever about that history.
This project came to fruition when Calise was given a big project assignment in the summer of 2021 in their INSC 567 Digital Humanities class. They realized it was the perfect moment to create a home for various Nashville LGBTQ-centric historical materials donated to Albert Gore Research Center at Middle Tennessee State University, where they work. The assignment was the push they needed, and the result was a website and project that would change their life, and come to impact many others.
Founding Nashville Queer History
The initial seed for this project was planted in 2019 when a donation of materials from Out Central, a LGBT center in Nashville that went defunct in 2018, were given to the Albert Gore Research Center. Work on that particular collection was delayed after the Covid-19 pandemic stalled some projects. But in 2021, Calise began digitizing some of the old newspapers from the collection. Then they took the digital humanities course at SIS.
"We had to do some big project. So I thought, well, I had digitized all these newspapers and we had photographs to digitize, why don't I start a website where I could house these things and start expanding it out?" Calise said.
Calise has a master's degree in public history, but decided to pursue a graduate education in information sciences to round out their knowledge as an archivist and to continue advancing in the field. While they came into the MSIS program with a great foundation of knowledge, it's been an opportunity for them to learn more about other aspects of digital preservation and information access.
"What my public history degree didn't teach me, UT's program picked back up. I did learn a lot of basic archival theory and foundations of the field in public history, and when I came to UT, I was able to fill in all the digital archiving knowledge I did not get. We're in the digital age, digital archiving has jobs open all the time, and that's what I am interested in and where I'm headed," they said.
Nashville Queer History is a culmination of Calise's knowledge in history, digital archives, and information sciences; they built the site to be a wealth of easily digestible historical information that is accessible and free to the public. Calise wanted to focus on the topic of queer history in Nashville because they identify as queer and bisexual, and they said there is an imminent risk of LGBTQ+ history being banned or erased.
Expanding the Project
After Calise decided Nashville Queer History should continue to expand even after they finished the digital humanities class, they created an Instagram page to get word out about its existence. Once that gained traction, they created a Facebook page, which led to them connecting with older members of Nashville's LBGTQ+ community. They realized there was an opportunity to record their stories and include them alongside other archival materials, so they began collecting their oral histories.
"I've got to meet a lot of really awesome people who have done awesome things in Nashville…[Nashville Queer History] is really about letting people's voices who haven't been publicly heard have a platform," they said.
One of the stories they recorded includes that of Abby Rubenfeld, a lawyer who was integral in getting Tennessee's sodomy laws overturned. They also captured the oral history of Jeffrey Ellis, co-founder of Tennessee's first gay and lesbian newspaper.
Ellis was excited to recount to Calise how he and his partner founded the newspaper, Dare (later to be renamed Query) in 1988, and he's been thrilled with the outpouring of interest and support since Calise's work has put his story in front of people.
"I was frankly surprised because so many people had just forgotten what we had done, and certainly had no sense of the historic value of the work we had done. Thanks to Sarah, it's hard to explain, really how it felt. It was extremely gratifying—it made all the work we had done once again feel important," Ellis said.
The newspaper was started in a turbulent but pivotal moment in history for his community, Ellis said. So many people would tell him that the paper gave them a sense of community, a way to connect that wasn't otherwise available then like it is today via the internet. While he's glad such strides have been made in the last few decades to improve rights and quality of life for those in the LGBTQ+ community, he's greatly appreciative Calise has ensured the stories of those who worked and fought for progress aren't forgotten.
"Sarah has opened the world up to what we did…It didn't seem that anyone wanted to read about what we had done in Nashville in 1988 and the intervening years. What I found was, people did want to hear the stories again. They want to hear about the things that we did and the history of our community and how it's changed. The response was very heartfelt and compelling and very powerful," he said.
Getting a Book Deal
Calise didn't set out to write a book about this research, but Betsy Phillips, trade marketing manager at Vanderbilt University Press, started following Nashville Queer History on Instagram. She observed the in-depth work Calise was doing for the site and was impressed with Calise's passion and curiosity.
"I said, well that is it, this has to be a book, there's just so much information here. The thing that really stood out to me was their willingness to just go to these places, get a feel for the neighborhood. That to me told me that they had the right perspective for this book because it wasn't just going to be someone sitting at their desk doing all this research, this is someone who wanted to be out in the landscape, in the community," Phillips said.
Phillips especially likes that this book will be a vehicle for people's stories who haven't before been told, such as two police female police officers who lived together and adopted children together in the 1920s. She also is excited Calise has been able to capture so many first-hand accounts from people while they're still alive.
"I kind of think this is the first time that some of them have ever gotten to talk about this and that's really important for them to be able to tell their own story and be an expert on their own lives. There had been a tendency for everybody but gay people deciding what being gay was and meant and then they were persecuted for those ideas put on them by outsiders. It's an opportunity for healing and being able to talk about, for some of these older folks, what it was like to live through the AIDS crisis, what it was like to be gay in the south in the 70s," Phillips said.
Phillips said Calise was at a "really unique nexus" where they already had conducted a lot of research and was part of the LGBTQ+ community in Nashville, and had earned their trust. Phillips took the proposal to her colleagues at Vanderbilt University Press, who were thrilled with the idea. She also noted that, in matters of recording history, there's no time like the present.
"I'm glad they're doing this because there is almost nothing before 1920, as far as I know. So we've already lost 140 years of Nashville's gay history, unless someone comes forward with a batch of letters or a diary or something, we're just not going to know. And that's such a bummer. Because how people experienced gender and sexuality was very different back then," Phillips said.
The book is set to be published and released in 2023.
Preserving the Project
Calise is cognizant they may not always be able to run Nashville Queer History, but they weren't about to let it fall by the wayside at any future point. To prevent that, they worked to make Nashville Queer History an official community partner for the MTSU Center for Historic Preservation. This status means the project will be sustained even if Calise isn't at the helm and provides more avenues for funding research for it. It also allows MTSU students to work with Calise and contribute their research to Nashville Queer History.
"There's a long-term plan for it, which makes me really happy. Yes, you can build all these great digital things, but what is the long-term digital preservation plan? It's sad to see such great digital projects kind of become obsolete and I did not want that to happen," they said.
Carroll Van West, director of the MTSU Center for Historic Preservation and a University of Tennessee alumnus, said Calise's website has become the go-to source for information about key Nashville LGBTQ+ historical events, people, and places. He'd previously worked with Calise in 2016 when they teamed up to provide the public with historical information about a black neighborhood that was asset to be destroyed in downtown Chattanooga. So when Calise approached West about making Nashville Queer History a community partner to the Center, West was happy to make that happen.
West said he was impressed by the accessibility of information on the site, as well as all the hard work Calise has put into researching the history. He said his main role in the project is to connect Calise with older members of the LGBTQ+ community as well as with graduate students who want to assist with research.
"It's been a great project to work with [them] on and [they're] just a great individual," he said. "It's a real nice platform that is adaptable, is easy to use. It's good, short focused pieces of research and information. That's just a platform we need as that area of research grows over time."