Let Information Light the Way
At the School of Information Sciences, we light the way for the next generation of leaders and experts in the information science fields and embrace the Tennessee Volunteer spirit through excellence in education, research, and service. Our American Library Association-accredited Master's of Science in Information Sciences (MSIS) program has produced successful librarians, information professionals, and scholars for more than 50 years and is in the top 10 library programs in the nation. Our undergraduate program is continuing to grow to meet industry demand for information professionals in user experience design and data and information management and analysis.
Have an associate's degree but want a bachelor's?
If you have an Associate of Arts (AA), Associate of Fine Arts (AFA), Associate of Science (AS), or Associate of Science in Teaching (AST) degree from a Tennessee Board of Regents community college, you may be eligible to finish your degree online through the School of Information Sciences.
This program allows students to graduate with a Bachelor of Science in Information Sciences with an Applied Data Analytics and User Experience (UX) concentration.
Featuring a flexible class structure that fits a working person's schedule, this program teaches students skills that will make them competitive candidates in the workforce for data and UX positions.
The faculty and staff were not only experts in their respective fields but also dedicated mentors who fostered a supportive and inclusive learning environment. The hands-on approach to learning and the emphasis on practical skills ensured that I was well-prepared for the challenges of the real-world."
Elisha Jewell ('23)
MSIS alumnus, web developer at MoxCar Marketing + Communications
Explore Our Online and In-Person Degree Programs
Bachelor of Science in Information Sciences
Our undergraduate majors can choose from three concentrations: User Experience Design (UXD) concentration; Data, Information Management, and Analytics (DIMA) concentration; or a general concentration, which is a customized course plan not in either of the concentrations.
Or, see if you qualify to finish earning your bachelor's degree online with an Applied Data Analytics and User Experience concentration through our degree completion program.
Regardless of which degree path you choose, our BSIS program will light the way for your future success.
ALA-Accredited Master of Science in Information Sciences Program
Our master's program allows students to carve their own path in the information sciences, with career opportunities in a variety of sectors and specializations.
This affordable 36-hour program can be completed through synchronous online courses that allow students face-to-face opportunities with their instructors and peers.
Whether it be one of the many positions in librarianship, or in other information sciences careers such as user experience design, knowledge organization, or data visualization, our MSIS degree will give you the skills and tools to be a leader in the field.
What Can You do with a Degree in Information Sciences?
The dynamic field of Information Sciences (IS) encompasses careers of many different settings and disciplines such as data analysis, library science, user experience (UX) design, technology, corporate taxonomy, and many others. Anywhere there is information, there is a job for information sciences professionals.
In fact, whether you choose to pursue a master's program or undergraduate program in the information sciences, the diverse nature of an IS degree from the University of Tennessee, Knoxville, enables you to take your passion for information, technology, people, and/or libraries in any of hundreds of traditional and nontraditional directions, and can be applied to the setting that most excites you!
Information Science roles generally focus more on working with information as a strategic asset for organizations, ranging from nonprofits to corporations to government agencies and others. There is a wide array of careers in IS, which include data analyst, UX designer, corporate taxonomist, web content analyst, digital archivist, and more. Those who earn a Master of Science in Information Sciences from our American Library Association-accredited program open up even more avenues of possiblities within librarianship and other information sciences professions.
---
SIS News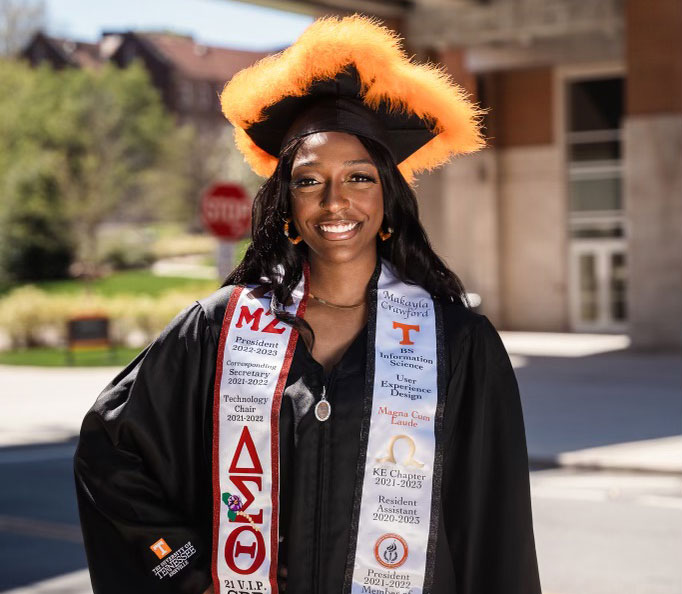 Graduating Senior Makayla Crawford Found a Home at UT and CCI
Makayla Crawford had no connection to the University of Tennessee, Knoxville when she began her college search. She had offers to play lacrosse at the Division I level from some schools but knew there wouldn't be a future for her in the sport after college. Crawford started college as a psychology and sociology major, but once the Covid pandemic hit, she realized it wasn't her true passion. She began doing research about information sciences and was drawn to the field.
SIS Events