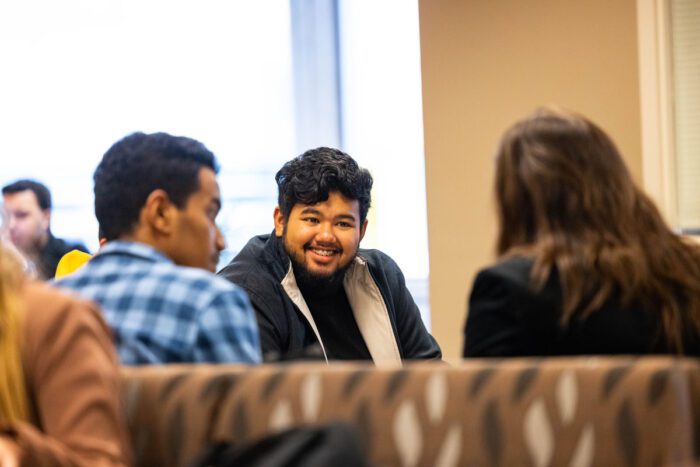 On the Path to Career Success
As information sciences is an emerging field with many professional opportunities, we want to ensure students are equipped with the knowlede and tools to achieve their career goals. Whether it be through an internship, resume assistance, career fairs, or other resources, the School of Information Sciences is dedicated to preparing you for a rewarding career in the industry.
"At my internship with CCI, I was able to take the methods I learned in my classes and implement them into a real workplace project. I went from research all the way to wireframing, developing skills in Figma and communication along the way. This internship helped me develop key skills for my resume and helped me get to the next step in my career."
Brooke Bixler ('23)
Undergraduate alumnus of the School of Information Sciences
What can you do with a School of Information degree?
There are a wide variety of jobs that can be pursued with the degree, which include UX Designer/Researcher, Data Analyst, Metadata Specialist, IT Analyst, Information Manager, Web Content Analyst, and more. Information science is a broad field which can be taken in a variety of directions and settings; often the only limit is your imagination and willingness to try out a new role.
Salaries and Job Growth
Many information science careers have above-average salaries due to the need for skilled individuals that use information to investigate complex issues, connect people and data, track down and solve problems, and help organizations make better decisions. Information sciences related careers also can expect a job growth rate much faster than the national average.
Let Information Light the Way
Professional Experience
At the School of Information Sciences, we know gaining hands-on experience in the field can direct your future career path, and provide you with additional value to your skill set as you navigate searching for a job. The INSC 499 – Professional Experience course is a three-hour credit course that information sciences major students can take in order to gain experience and fulfill their capstone requirement.
What are the requirements for professional experience?
Students must have completed required and pertinent courses relevant to the student's practicum design. They must be an information sciences major and at minimum a class level-junior. Approval of the practicum coordinator is also required.
We're Here to Help!
Abebe Rorissa
Professor & Director, School of Information Sciences, CCI Associate Dean for Faculty Affairs
865-974-9003
Job Listings