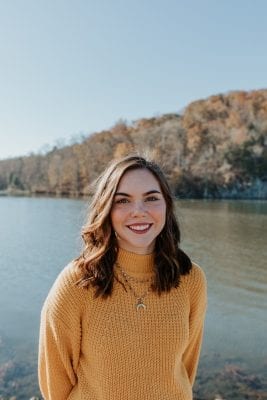 Junior Holland Parkins recently became the first ever College of Communications and Information Land Ambassador for the School of Information Sciences (SIS), a position in which she will represent the college and assist CCI with student recruitment, student retention, alumni relations, community outreach, and college events.
What is a CCI Land Ambassador?
The CCI Land Ambassador program was established in 2012 through funding from Stephen Land, a 1978 graduate of the School of Journalism and Electronic Media. Land has served on the CCI Board of Visitors, and is CEO of Jupiter Entertainment, a television production company based out of Knoxville. Ambassadors "help the college tell its story to a variety of important constituencies" by talking with prospective students and their families, and attending various events as representatives of CCI.
"It's such an honor to be able to represent my major because a lot of people have no idea what information sciences is, or they've never even heard of it. So it's cool to shed light on this awesome new major," Parkins said.
Rochelle Nelson, a master advisor and lecturer for CCI and co-coordinator of the CCI Land Ambassador program, said the students selected for this role will attend alumni events on campus, conduct tours of the CCI facilities, and assist with CCI alumni events such as the CCI Board of Visitors meeting.
"Most often CCI Land Ambassadors are directly involved with leading (virtually this fall) tours of the CCI facilities. These tours frequently include introducing prospective students and their families not only to our CCI facilities, but often provide tour participants the opportunity to meet with CCI faculty and staff involved in areas of future interest(s) to the prospective students," Nelson explained.
Why Information Sciences?
Parkins started hearing about the new BSIS major and it piqued her curiosity, so she looked into it a bit more during her sophomore year. She switched to information sciences after taking her first information sciences course in Spring 2020 and "falling in love" with the area of study. Before that, Parkins had been an exploratory student, as she was looking for a major that would give her options and flexibility for her future career. Information sciences does exactly that, and she said it also allows her to enter a field that melds together components of computer science, social sciences, and communications.
"That is something I really like about it, all the communication within the field," she said.
Parkins said she is thrilled to be in a school housed within the College of Communication and Information (CCI), as her family has a history with the college; her father runs a newspaper in her hometown of Myland, in West Tennessee. That's also what pushed her to become a Land Ambassador.
"I knew there were ambassadors for each college, and I was very interested in becoming one. At my first ever advising appointment, I was like, OK, what is the application process to become an ambassador?" she said.
Nelson said the school really wants to make sure to select exemplary students for this important role – students who embody leadership, the Volunteer spirit, and academic excellence – and that Parkins easily fills those requirements.
"Holland is energetic and motivated to share information regarding the School of Information Sciences, and her spirit is contagious because it is genuine," Nelson said, noting that CCI Land Ambassadors can connect with prospective students and families in a "unique and important way."
Besides staying busy as a student and an ambassador, Parkins also volunteers with Minority Enhancement for the University of Tennessee (ME4UT). ME4UT does outreach and events to promote diversity on campus, and is part of the VolCorps.
As for Parkins' future in information sciences, she's eyeing the academic route for the next few years and wants to earn a master's and a doctorate degree in information sciences.
"I'm not done with research and I love learning new things. I think this is one of the best times to learn, my brain has just now fully matured. I feel like I can take on more school and if I can, I think I should," she said.