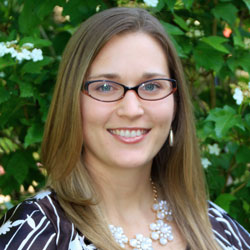 Madison Langseth ('15) was first drawn to the idea of connecting people to information when she was volunteering for the Peace Corps in Sierra Leone, teaching chemistry and physics to middle and high school students. There, she helped reopen the school's library, and it was one of the most impactful projects she did during those years.
"Just getting those students access to information, it was my favorite thing I did there. Most of them didn't have books at home and it was just incredible how excited they were to sit and read a book at the library," she said. "That's what started me thinking about the library and information sciences path."
Langseth started looking into the various programs and realized that some of them offered data management and curation courses, which piqued her interest. The program at the University of Tennessee, Knoxville, was bumped to the top of her list due to some of the grants available, as well as its ties to Oak Ridge National Lab. She earned her undergraduate degree in biology, and wanted opportunities for science-based practicums or internships in her master's program.
"I realized I wanted to combine my science background with this idea of getting people access to information," said Langseth.
Today, Langseth is doing exactly what she had hoped she would, and is working as a science data manager at the U.S. Geological Survey in Denver, Colorado. There, she helps support a data repository, manages the USGS data management website, trains scientists on how to get their data published, and oversees a software tool that allows scientists to create their own digital object identifier (DOI).
She loves her job and said that none of it would have been possible if it weren't for the MSIS program at the University of Tennessee. That's because USGS hired her as a full-time employee right after graduation because she participated in the USGS Pathways Internship program, which allows the agency to convert interns into employees once they meet certain qualifications. Because the internship was in Denver, Langseth had to pick up and move there for an entire year – which she was easily able to do and continue taking her SIS courses because of the distance education component of the program.
"That [internship] wouldn't have been open to me if I had to be in person to finish out my degree. I'm highly supportive of the online model," she said.
In fact, she strongly encourages any current or future students to take advantage of practicum, assistantship, or internship opportunities as part of their master's program. Besides the internship at USGS, Langseth also completed an internship for the National Center for Atmospheric Research in Boulder, a practicum with the Pendergrass Agriculture and Veterinary Medicine Library, and she was a graduate assistant through the Digital Curation Education in Research Centers (DCERC) project. While Langseth praised the SIS courses and faculty, she said nothing quite compared to applying what she had learned in those classes to real-life situations in the field.
"I think anyone who goes through the program and doesn't do something like that is at a serious disadvantage, because from my perspective, the school did a really great job of providing those connections so it was really easy to take advantage of it," she said.
Langseth joined the SIS Advisory Board in 2019, in part because she wanted to contribute to a program that shaped where she is today, but also to continue supporting students with science backgrounds within the field of information sciences. She said she's been pleased with how SIS has been doing that through programs such as the CALL project, which trains students to be science liaisons/librarians.
"There is a need for people with science domain experience to help with data management. Researchers trust other people more if they have science backgrounds, so there is this need for not only having the information sciences background, but also having a strong science background, so there's a lot of opportunity in the field when you have both," she said.