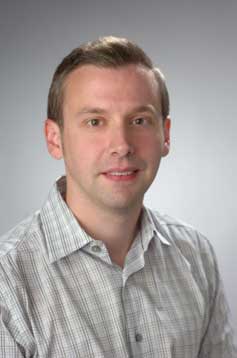 Assistant Professor Brian Dobreski is the newest member of the SIS faculty, and he's settling well into both his role as a teacher, and into his new community in Knoxville. He's also made an impact academically with his dissertation, which earned him three accolades in recent months:
His dissertation, "Values in Knowledge Organization Standards: A Value Analysis of Resource Description and Access (RDA)" takes a look at the bias and systematic values that even technical documents such as a cataloging standard can contain.
"People think a lot of knowledge organizing activities are objective processes, but there's subjective elements as well. So the dissertation looked at the standard itself to see what kind of non-objective things are going on," he said.
He'll continue exploring similar themes in his research, including one project he's working on with colleagues in Syracuse and Chicago,in which they're looking at how to handle historical language used to refer to sideshow performers in photograph collections. Many sideshow performers were people with disabilities, and historical language used to describe them is often offensive to modern communities.
"There's these terminological differences and we're figuring out how to negotiate that, and convey that different terms were used and this is what they were referring to, without promoting outdated or offensive language. But it's part of the item and it's part of understanding the context of these historical objects. So those collections themselves happen to pose a lot of issues like that," Dobreski said.
He is also starting new research in collaboration with SIS Associate Professor Awa Zhu, and another researcher in Milwaukee, observing how information organization and information retrieval are intermingled in library and information sciences curriculum.
Dobreski, who came on board at SIS this August, earned his PhD from Syracuse University. He taught metadata during his first semester here, and he said he's been continually impressed by the students and the projects they've completed for the class.
"It's gone so fast here and I've really enjoyed it. Everyone has been super helpful, faculty and staff," he said.
He'll be teaching Information Organization and Retrieval in spring 2020, which is a class he said he taught at Syracuse, and one of his favorite subjects to teach.