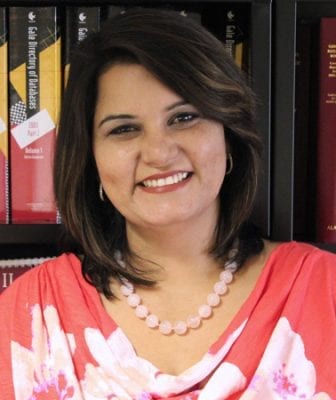 Associate Professor Vandana Singh's work over the past few years is being recognized by several outlets – both for the extensive service she has undertaken, and for her research.
She will receive the College of Communication & Information Service Award in October, for which she was nominated due to her service in creating the successful proposal for the new School of Information Sciences undergraduate major, as well as service on other committees including: co-chair for the Open Source Track at Grace Hope Celebration of Women in Computing, editor for Public Library Quarterly, UTK Undergraduate Council member, UTK Undergraduate Appeals Committee member, Chair of CCI Undergraduate Affairs Committee and Director/Chair SIS Undergraduate Studies committee.
Singh said serving as chair of the SIS undergraduate committee meant learning all about undergraduate university systems in the United States. Her own undergraduate schooling was completed in India, and she has always taught in master's programs in the United States.
"I'm very happy that I got to learn that and oversee that process, and understand the American education system, and the involvement of the state in that process," she said.
The proposal for the program was approved in May 2019 and students began enrolling in the undergraduate program for fall 2019. Singh said the Tennessee Higher Education Commission was so impressed with the proposal submitted by SIS, it is using it as an example to show other institutions starting new undergraduate majors.
The undergraduate major has two concentrations: user experience design; and data, information management, and analytics.
"We take foundations from information organization from the library field, and then we take the user-centered design from the technology field, and we put them together. It's a socio-technical program, so it's for anybody who is interested in technology but doesn't want to eliminate people from the equation," Singh said. "In my vision, [students] will see themselves filling the gaps that computer science can't."
Besides providing students with skills to fill a growing job field, Singh also hopes that the undergraduate major could help more women to enter the IT field. One of the other notable service roles Singh fills is as chair for the Open Source Track in the Grace Hope Celebration of Women in Computing, (https://ghc.anitab.org/) which is the largest technology conference for women in the field of technology.
In fact, Singh focuses much of her research on barriers women and marginalized populations face in IT, and what could break down some of those barriers.
"This is really a very good time to be working on this because there's a lot happening around gender equality with issues such as equal pay receiving significant media attention, and it's giving momentum to equality movement for women including women in technology, " Singh said, noting she recently presented at two conferences in Canada, and both were about women and open source software.
At the International Conference on Software Engineering (ICSE), she participated in a workshop on gender equality and presented the paper, "Women Only Spaces in Open Source Software." This paper will be published in the IEEE "Software" magazine as research that is useful to industry practitioners.
Then, at the International Conference on Open Source Systems, she presented "Inclusion Initiatives for Women of Open Source Software," which was nominated for best paper of the conference.
Singh was also thrilled to learn that a paper she published in 2017, "Open source integrated library systems migration: Librarians share the lessons learnt," will be a featured article in the "Informed Librarian" for July/August 2019 as it was deemed useful for library professionals.
In September, Singh will travel to Paris for the European Conference on Software Architecture, where she will share the results of interviews she conducted with women about their experiences of how they are treated in IT fields.
To learn more about Singh's past and ongoing work, visit her website at https://sis.utk.edu/vandana/.