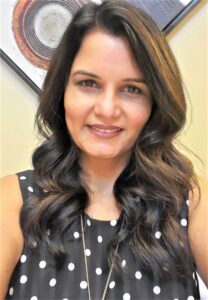 Dr. Vandana* Singh is a Professor in the iSchool, the School of Information Sciences (SIS) at the University of Tennessee Knoxville . Currently, Dr. Singh is serving as the inaugural Director of Diversity, Equity, and Inclusion at the College of Communication and Information. 
For regularly updated current news please refer to  this page.
Dr. Singh received the 2021 Collège of Communication and Information Faculty Research Award, please click below to read the details about the award and her work.
Dr. Singh joined the SIS faculty as an Assistant Professor in 2008 and was tenured and promoted to Associate Professor in 2014. In her time at SIS, Dr. Singh has worked as Information Science and Technology Minor Coordinator (2008 – 2011), Acting Associate Director of SIS (2013) and the inaugurating Director of Undergraduate Studies (May 2017 – April 2019).  
Dr. Singh graduated with a PhD in Information Science from the iSchool at the  University of Illinois at Urbana-Champaign , USA, in  2008. Her dissertation research was on Online Communities to Support the Users of Open Source Software. For more details about her research please click here. She holds two masters degrees, one in Computer Science from University of Chicago , Illinois, USA and the other one in Knowledge Management Systems from Wageningen University, the Netherlands. Her undergraduate degree is from G.B. Pant University, in the foothills of Himalayas in India. Please browse through the site to get to know Dr. Singh 🙂
Her current research interests are in Gender and IT, Open Source Software, Technology for Library Professionals, Women in STEM, Rural Libraries, Social Justice, Online Learning/Communities and, Computer Supported Cooperative Work.
Dr. Singh teaches the core course in Information Technology, Usability Testing and Methods, Web Design, Information Networking Applications and a wide range of topics as Independent Studies. Please read more details about her teaching here .
The Open Source ILS portal that she created as a product of an IMLS grant can be found here.
Dr. Singh received the CCI Service and Outreach Award in 2019. SIS did a story about Dr. Singh's this award linked below.
Dr. Singh was recently a featured faculty during the faculty appreciation week at UTK https://faw.utk.edu/2019/02/06/vandana-singh/
Dr. Singh has received multiple research grants from federal agencies, including National Science Foundation (NSF), Institute of Museum and Library Services (IMLS) and United States Geological Society (USGS). Her research has been published, recognized and awarded in national and international conferences and journals. Please read more details about her research here.
*If you would like to know how Vandana is pronounced, then here is the pronunciation from pronouncenames.com!
Here is a youtube video, if that might help, Or Dr. Singh is just fine 🙂