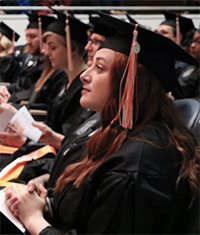 There's no better way to get hands-on experience in your field while earning a master's in Information Sciences than by completing a practicum. Practicums are multi-beneficial in providing you with relevant work experience, an opportunity to give a specific job a test run, and you receive three hours of academic credit upon completion. You'll get first-hand direction from shadowing professionals, and it will expand your professional network.
We know many of our students are Distance Education, but you can do a practicum no matter where you live! We will work with you to find a suitable location in your area. Virtual practicums are also possible. You can learn more about the requirements for a practicum, and how to start one, on our website.
Sometimes a practicum can turn into something more–as was the experience for SIS alum Hilary Jasmine, whose practicum led to a full-time job. She spent two semesters as a practicum student in the special collections of the University of Tennessee Health Science Center in Memphis. She engaged in a variety of tasks, including disaster policy, reference requests, collections processing, digitizing dissertations and working on exhibits. It broadened her skills and gave her perspective on what the day-to-day job would be like.
"I genuinely believe the practicum was the most important coursework of the entire program for me," Jasmine said. "I may be biased, since it led to employment, but I really think at least one semester of practicum should be a requirement."
She said the SIS online degree program fit her schedule and life, but the practicum provided a deeper understanding of her workplace goals.
"I really enjoyed the practical knowledge that comes with being in the library, rather than on my laptop at home," she said. "There's something about sitting with a person who has the skills you want that makes all the theory and the concepts nailed down in a realized way."
 Jasmine said she worked with her supervisor to meet goals, and enjoyed the variety of projects she handled. She was also able to utilize information she'd learned in class in a practical setting – which made some things "click" for her, as in the following anecdote she gave:
"I was a part-time circulation staff member at a community library during my program and I didn't have any deep understanding of the various tools academic librarians use. In one SIS course, people went on and on about the "IR" and I did my best to just sound like I knew what everyone was talking about. It was the beginnings of my imposter syndrome, and I think it's something every librarian goes through. Anyway, I found out through practicum what an institutional repository (IR!) is and having the experience of working through it alongside a person with deep content knowledge was critical to my understanding. That's one small example of the usefulness I found in practicum: I learn by doing, and I 'do' best in person."
 Her practicum became a full-time job for her when a position opened up at UTHSC for a Research and Learning Services Librarian on a team of RLS librarians that she had come to know through the practicum work. She was able to start working right after she graduated with her MSIS.