Bonnie Carroll Honored for Long-Time Support of CCI and SIS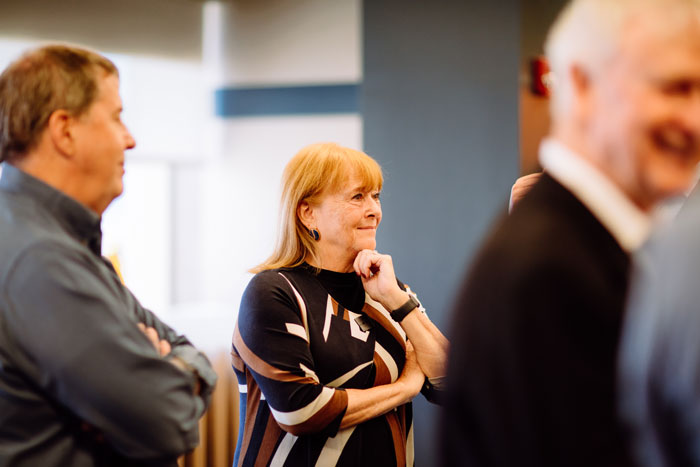 Bonnie Carroll may have recently retired from Information International Associates (IIA), the information and scientific data management company she founded decades ago in Oak Ridge, but the long-time supporter of the College of Communication and Information is not yet done with data or with the University of Tennessee, Knoxville. She was recently honored by CCI for her various contributions to the college over the years, with her latest achievement being the work she did to bring the World Data System (WDS) to the university and to Tennessee.
"Bonnie has had an incredible commitment to UT, an incredible commitment to the School of Information Sciences (SIS). She has given incredible feedback on the strategic plan and she is helping us move forward as one UT, one CCI," said CCI Dean Joseph Mazer at the gathering to honor Carroll.
WDS, under the International Science Council, "supports the ISC's vision by promoting long-term stewardship of, and universal and equitable access to, quality-assured scientific data and data services, products, and information," said School of Information Sciences and Chancellor's Professor Suzie Allard. Allard, who is also director of the Center for Information & Communication Studies (CICS), was the first person Carroll contacted when she heard WDS was searching for a new home as it planned to move its headquarters out of Tokyo. The two women created a proposal with Giri Prakash, section head for Earth System Informatics and Data Discovery Section at the Oak Ridge National Laboratory (ORNL), to vie for WDS to move to East Tennessee. In a span of two weeks they secured the support and financial backing of Advanced Super Computing Resources under the Department of Energy and were able to put their proposal into the running. Their proposal was chosen and, along with that, they were awarded a multi-million dollar grant to establish WDS in the region.
"It was wonderful working with WDS when Suzie, Giri, and I decided to get this proposal done. Everything about that proposal was what the [International Science Council] wanted," Carroll said, noting that WDS will now be positioned in a great scientific community between the UT-Oak Ridge Innovation Institute (UT-ORII) and ORNL.
Carroll became the interim executive director of WDS until they hired CCI doctoral student Meredith Goins on as executive director.
"WDS is here because of these three individuals, but really it's because Bonnie brought it to us and it's something that fits in very much with UT's mission and with CICS' mission," Goins said.
Besides this recent and monumental achievement, Carroll's resume of work and service is an extensive one fueled by a passion for quality scientific data and information. She has a master's of science from Columbia University and a bachelor's of arts from Cornell University, and was an adjunct professor for SIS in the 1970s. She's continued to support higher education by serving on the CCI Board of Visitors and the SIS Advisory Board, but perhaps most importantly by supporting graduate and doctoral students with opportunities to gain hands-on experience in the information sciences at IIA.
"[Carroll] has supported our students for many, many years. I don't know how many students went through her doors…but all of them have had incredible experiences," Allard said.
Allard also listed off some of Carroll's other significant accomplishments, including:
Service on the Board of Research Data and Information at the US National Academy of Sciences
Serving as secretary general of the Committee on Data for Science and Technology (CODATA)
Participating on two US White House Interagency Working groups in biodiversity informatics
While Carroll's commitment to UT and to her field over the years has been significant, she said she hopes that bringing WDS to the university and this region will be some of her most impactful work yet.
"I sure hope it's not only going to be a legacy, but a really active attraction at the university for many years to come," she said.