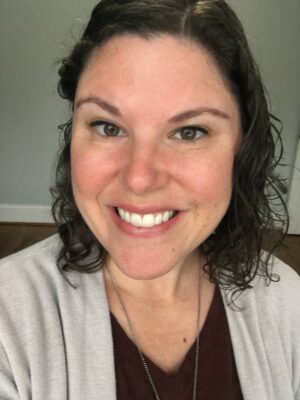 In less than two years, recent MSIS graduate Gillian Kelly ('21) went from being unfulfilled at her job to grinning ear-to-ear whenever she talks about her new chosen profession in the field of information sciences.
"I couldn't really imagine a world in which I would be so happy in my work life. Work was always work, and although I knew other people who found fulfillment in it, I really didn't think that was realistic for me," she said. "I feel so differently now and I am incredibly excited about the opportunities that have come my way as a result of getting my degree."
One of those opportunities came in the form of a new job managing a database of bioscience companies and people for the North Carolina Biotechnology Center, a nonprofit that seeks to drive economic development through its biotech sector and leverages its library as a revenue generator. Her position is part of Life Science Intelligence, which is the Center's library team.
While it does seem as though landing this ideal job was kismet, as Kelly puts it, there's no doubt her own initiative set her up for success. She had struggled to find a practicum that could be done remotely during the height of the COVID-19 pandemic when she recalled a speaker from one of her classes who had left quite the impression, Susie Corbett at North Carolina Biotechnology Center.
"I remember walking downstairs after I heard Susie speak and I remember telling my mom, this is a company I could see myself working for, it's just so unique and so interesting to me," she said.
So, she went ahead and sent an email to Corbett and kept her fingers crossed for a positive response – and she got it and completed the practicum in spring 2021. When she left, they asked her if she'd ever be interested in working there if a position became open. She enthusiastically affirmed that she'd be very interested, but also left with no expectation that a job would suddenly be posted – much less the job that was the one position she thought suited her interests the most.
In hindsight, the foundation for Kelly getting her current job had been laid one brick at a time.
When she had decided to go back to school, Kelly had left her position at the global headquarters of the American Cancer Society so she could focus on her studies. But she looked for part-time work and found a position in sales for the same wedding photography and videography business that had documented her own wedding.
"That was an unexpected surprise during my schooling, finding this sales position and finding it to be a strength of mine. It's one of the reasons I think I'm perfect for the role at North Carolina BiotechnologyCenter, because they were looking for somebody with marketing and sales experience to take a look at their company directory and see how we could take it to the next level," she said.
Sometimes, she says, she pinches herself because it all seems too good to be true. But she did put all the hard work into both her classes and going out on a limb to send emails to people who eventually mentored her and offered her opportunities. One such email was to Kim Dority, an author who specializes in information sciences careers.
Kelly had come into the MSIS program interested in academic libraries, but quickly realized that wasn't the right path for her. She explored public librarianship, and again, it didn't quite suit her. Kelly's father had become very sick while she was in school, so she hadn't been able to speak with Dority when the author had arranged times with SIS for student one-on-one meetings. Months later, Kelly was uncertain about her future path and she remembered the missed opportunity to speak with Dority, so she went out on a limb to send Dority an email to see if she'd still speak with her. Dority said yes and immediately steered Kelly into the direction of special libraries.
"She told me my skills, my experience, it was a perfect fit for special libraries and that was a lightbulb moment for me, and from that moment on, I geared everything I was doing for a future in special libraries," Kelly said.
She'll be moving from Atlanta to Wilmington, North Carolina soon, though she's currently working remotely for the Center. She credits many people with helping her achieve her current success, but also rightly gives herself credit for working hard and taking some big steps outside of her comfort zone.
"Throughout the program I did things that made me uncomfortable; I begged people for opportunities that I thought were interesting and I really went out on a limb and I have reaped so many rewards from that. If anyone is sitting there wishing that things were a little bit different, that's my best advice," Kelly said.