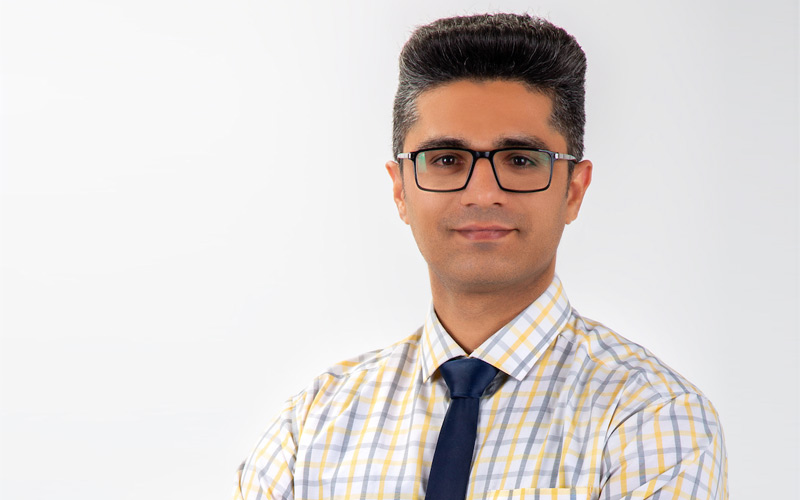 It's been an exciting and transitional summer for Iman Tahamtan, a recently graduated College of Communication and Information doctoral program alum, and now SIS lecturer. Not only did he successfully defend his dissertation in July, but he also stepped into a new role as a senior user experience researcher for the Machine Learning and Intelligence Operations Product team at JP Morgan in Columbus, Ohio.
Though he interviewed for jobs in academia, Tahamtan was offered the UX researcher position and couldn't pass it up. While many UX researchers are assisting with end products such as a websites or applications, he will be studying users to help create machine learning models; machine learning and artificial intelligence is a rapidly growing field, and he's excited to be a part of it.
That said, Tahamtan isn't about to leave academia behind. Research is one of his true passions and he is still working on several projects unrelated to his current job.
"Research is something that I do after work, for me, it's like a hobby," he said.
He will continue to keep one foot in academia with research and as a lecturer for SIS. This semester he is teaching undergraduate SIS students Introduction to Computers, and in the past he has taught Technology for Information Retrieval, Foundations for Information Technology, and User-Centered Design. If anything, Tahamtan believes gaining practical experience as an information sciences professional will better inform his teaching.
"Maybe in the future I will return to academia, I don't know, but I want to get some experience in the field," he said. "I think that lecturing is going to help me, and also help the students, as I move forward and gain more experience in the industry."
Tahamtan also chose a non-traditional approach in assembling his dissertation by writing it in a manuscript-style. While this may be typical in other fields, he said he's the first doctoral student at CCI to write their dissertation this way. A manuscript-style dissertation is comprised of several articles on the same topic, and each article becomes a chapter of the dissertation. His dissertation is titled, "Public Health Emergencies and Public Opinion on Social Media: A Framing and Network Agenda-Setting Study of COVID-19."
For the first manuscript, Tahamtan studied public opinion on Twitter about the COVID-19 pandemic on Twitter. He looked at hashtags as a way to show what things people believed were important, and how they framed their opinions about the pandemic. In the second manuscript, he studied topics promoted on Twitter by the World Health Organization and how that impacted public opinion; for this, he used thematic analysis, content analysis, network analysis, text mining and statistical tests.
"By publishing several papers on the same topic, you have already written your dissertation. It helps you work on different theories and use different research methods. My dissertation had two different datasets, two different theories, and different methodologies. I learned more as a doctoral student this way," Tahamtan explained.
He also wanted to ensure credit to his dissertation committee members, all of whom are listed as co-authors of the published manuscripts that comprise his dissertation. They are: SIS Associate Professor Devendra Potnis, SIS Associate Professor Vandana Singh, Communication Studies Associate Professor Laura Miller, and University of South Carolina Assistant Professor Ehsan Mohammadi.