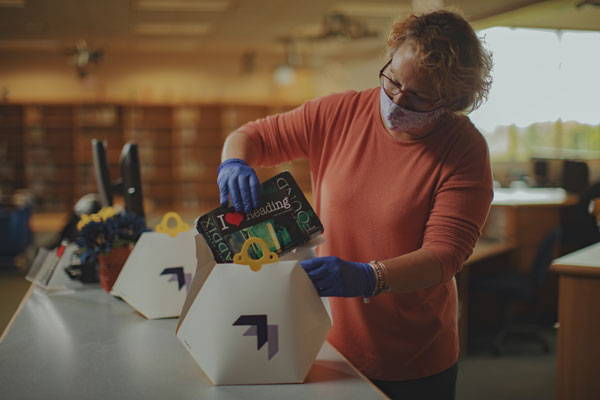 Two SIS alumni were recently announced as 2021 Movers and Shakers by the Library Journal: Amber Gregory ('11) as an Advocate and Kelly Passek ('11) as an innovator. The Library Journal states that this list, which features 46 people this year, is comprised of "individuals who are moving the library field forward as a profession."
Passek was highlighted in a 2020 SIS article about a program she created that uses drones to deliver books to children from the school library where she works in Virginia – you can read her whole story here!
What is an E-Rate Navigator?
Gregory has been the E-Rate navigator for the Arkansas State Library for a decade now, and even though it wasn't the job she had in mind when she entered the SIS program, right now she can't imagine doing anything else. The E-Rate Program is a federal program that provides funding and discounts for broadband internet access and equipment to public libraries and schools throughout the United States. But the E-Rate process is complicated, and it's Gregory's role to help Arkansas public libraries to navigate it.
"Libraries are such an important place in their community as an anchor institution where patrons can come and have access to internet," Gregory said. "We know that in more rural places, higher speed internet is beyond the reach of smaller libraries, which is why E-rate is so great – it allows them to afford that internet for their patrons."
SIS alum and Arkansas State Library Director Jennifer Chilcoat, said in her nomination of Gregory to the Movers and Shakers list that Gregory has worked passionately to reduce barriers to internet access for the libraries of the state, and has done so with "a calming and encouraging voice."
Career Switching
Making pottery and doing decorative restoration work were the careers Gregory left behind when she decided to go back to school. She loved doing both of those things but felt it was time for a career change and decided that libraries were where her new future would unfold.
At the time, she and her husband were living in Johnson City, Tennessee, and he had just graduated and was job hunting in Tennessee and Arkansas. Being unsure of where she would be living, Gregory said the MSIS program at the University of Tennessee, Knoxville, made a lot of sense; if they didn't move out of Tennessee, the school would be nearby, and if they moved to Arkansas, she could take distance education classes.
"I knew that UTK was right down the road and that Arkansas doesn't have a library school, so UT was an easy choice. I really enjoyed my time at UT and all the classes I had, the professors, and the cohort I was in – I really think there was so much value with that program and the degree," she said.
Gregory was still a student when she started working in circulation at the Arkansas State Library and that gave her the opportunity to apply for the E-Rate position when it was created. It was a brand-new position at the library, and that was part of the appeal for her – not only could she help public libraries across the state get crucial internet service, but she would have an opportunity to shape the role.
"I had no idea that I would love E-Rate and broadband policy. I have been able to see that landscape evolve and I think we're at a really exciting point right now, both at a state level with broadband policy, but also on a national level, especially as we're emerging from the pandemic. The pandemic really did lay wide open the digital divide and that it definitely does exist, and it reminded us that we still have a lot of work to do," she said.
Making the LJ List
Besides her tireless work in the E-Rate program over the last 10 years, Gregory tries to be responsive to other technology-related needs she sees in public libraries – which is one of the reasons she made it onto the Movers and Shakers list.
One of her favorite things is to see what libraries are doing, and how they're meeting the needs of their communities in creative and innovative ways. She'll sometimes even connect one library with another that wants to implement similar ideas or programs.
And sometimes Gregory takes the reins herself, like she did this last year during the COVID-19 pandemic. She saw there was a need for technical skills at many of the smaller libraries that didn't have personnel dedicated solely to technology. So she took a cue from the Texas State Library and Archives Commission and worked with consultant Carson Block to create a virtual "You Can Do I.T.!" tech training program.
The original program in Texas was in-person, which wasn't possible during quarantining for the pandemic. So Gregory and Block worked to do the same type of hands-on program where participants could still tear down and rebuild a PC and learn other technical skills, but with virtual guidance rather than in-person.
"It was pretty fun, and I will say it was a learning experience, because when we all went home during the pandemic we were figuring out how do you deliver content, how do you make it interesting?" she said.
In addition to her day-to-day work, Gregory is also the chair of the American Library Association's E-Rate Task Force, which coordinates with the Universal Service Administrative Company (USAC) that administers the E-Rate program for the FCC. She is also the library representative on the USAC board. Both of these positions allow her to communicate concerns from a state level to a national level, and vice-versa.
Gregory said it's an honor to be on the Library Journal's Movers and Shakers list, and it was even nicer to come back from a vacation right after the announcement was made to an email inbox full of warm wishes and congratulations. But at the end of the day, she gives a lot of credit to all of the people at the libraries she helps.
"I love working with the public libraries. My favorite part is talking to a library director or the IT director and hearing about the wonderful, exciting things going in their library and community and just the creativity and dedication that I'm able to see and hear about. They're very inspiring, their stories are inspiring, and anything I can do to help, I'm happy to do," she said.