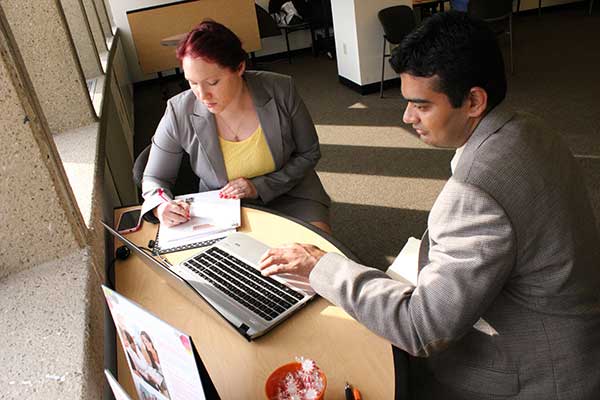 When Joseph Winberry was still a master's student at SIS, he was a graduate teaching assistant to Associate Professor Devendra Potnis and also assisted in research. Both Potnis and Winberry are interested in social innovation, social justice, and the role information sciences can play in both of those areas.
Winberry was helping with Potnis's research on managing innovations in public libraries, along with two other MSIS students, Bonnie Finn and Courtney Hunt. Out of that project the group published two research articles, and Winberry was still working on a literature review Potnis had asked him to conduct on the subject.
"Then one fine day Joseph tells me he has collected 70 to 80 articles and we started looking at them and I realized that a spin-off article was possible," Potnis said.
That is how the paper "Social Innovations in Public Libraries: Types and Challenges" was instigated, and now that paper just selected as winner of the 2021 Bohdan S. Wynar Research Paper Competition through the Association for Library and Information Science Education (ALISE).
The paper focuses on solving social problems using innovation practices in libraries, and explores how existing research on classifying innovations by libraries does not treat social innovation as a separate category. The paper's goal is to provide a framework for librarians to understand what social innovation types exist and how to implement such innovations.
"Social problems can be a variety of things, but are basically something along the lines of problems in society that cannot necessarily be fixed on an individual level, like a public health crisis or loneliness – those are things social innovations work to address," Winberry said.
Examples can include rural libraries providing entrepreneurial support or programs around diversity and inclusion for historically marginalized populations.
Potnis said that the paper earning this award will allow Winberry to present himself as an expert in the area of public libraries and social innovation. As for Potnis, he said he hopes this is another example for doctoral students to see and know that being his advisee can result in published papers and even awards.
"So I'm trying to create a culture here, at least for me and my students, we collaboratively work with each other and co-author articles with each other and this kind of relationship will last beyond even after they graduate. Hopefully it will attract more advisees to me in the future," he said.
Winberry is particularly pleased that this paper was chosen as the winner because it brings attention to social innovations in public libraries and hopefully will foster more of that type of work.
"I think it's continually important that we bring attention to the work libraries are doing and the importance of libraries for communities and the difference they could make, as well as the great work our alumni and other professionals are doing out in the world," he said.