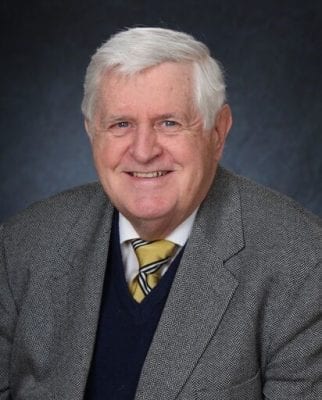 SIS and CCI are fondly remembering the life and service of Donald W. King, a long-time supporter of the school and college and an SIS adjunct professor, who died in November at the age of 87.
King served on the CCI Board of Visitors from 2011-2014, was a member of CCI's Bickel Society, and was the co-creator of the Tenopir-King Research Excellence Fund with SIS Chancellor's Professor Carol Tenopir. Tenopir said one of the reasons she came to the University of Tennessee in 1994 was to have an opportunity to do research with King.
Together, King and Tenopir published two books and many articles and book chapters. They did research on scholarly journals, including how scientists find and use information for their work and the value of access to high quality information to science. She brought in the "e-journal" and other "e" side of their research to add to King's long-time studies on the behavioral and historical aspects of scientific journals.
"He continued to do research until the last few years due to his health. He came here every year to work with our research teams and graduate students and to do research with me," Tenopir said.
King's wife, Dr. José-Marie Griffiths, was an SIS professor and also served as director of the school before they moved to Michigan in 1996. Griffiths is president of Dakota State University in Madison, South Dakota, and King was fondly known in the college-town community as the "first dude." Tenopir said he loved the Madison community, and it was apparent that the community similarly embraced him based on the large attendance at his memorial service.
Tenopir said King's dedication to research was reflected not only in his own work, but by their co-establishment of the Tenopir-King Research Fund to annually recognize an excellent researcher working for CCI's Center for Information and Communication Studies (CICS).
"He was a very kind and giving person. After running his own research company for many years, he decided to focus on doing research rather than the other aspects of running a business. All of the work he did for Tennessee was done on a pro-bono basis. More than pro-bono, he gave money to the research fund. He kept his attachment here  for 20 years after they left," she said.
Visit King's obituary to learn more about his life, family, and work.