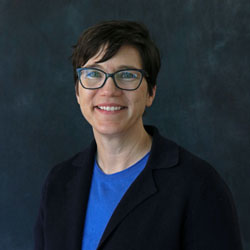 SIS Director and Professor Diane Kelly was recently elected incoming chair-elect for the iSchools organization. She will serve two years as chair-elect beginning in March 2020 at the iConference in Sweden, and will work alongside Gobinda Chowdhury, professor of information science and chair of the iSchool at Northumbria University, who is iSchools incoming chair. Her two-year term as chair of the organization will begin in 2022.
"The iSchool organization was created to promote the information sciences and advocate for the information professions. Not everyone is aware of 'information science' as an area of study or discipline, but once you explain it to them, they get it because information, and information services and systems, are so pervasive," she said.
In fact, Kelly says that educating the public about the impact of the information sciences is one of the things that most energizes her about her new role in the iSchools organization. While serving the organization as chair, she said she hopes to continue this mission in part by encouraging more international participation from universities in Central and South America, as well as Africa.
"I am excited about the opportunity to lead this global organization of top-information schools from around the world, and to represent our school and university at this level," she said.
Kelly will be the 11thchair to serve, and the second woman to chair the organization since the iCaucus was formed. Current chair Sam Oh, professor at the Sungkyungwan University iSchool in Seoul, Korea, said he strongly endorsed her for the position.
"She has been a vital member of iSchool Board of Directors and has demonstrated exemplary leadership in ACM SIGIR, a premiere society in Information Retrieval. She is a strong figure in numerous ways who is certain to solidify a great stride in iSchools' move forward. It is high time that we take advantage of her excellent leadership," Oh said.
Go to the iSchools site to learn more about the organization and the work it does to further the information sciences.