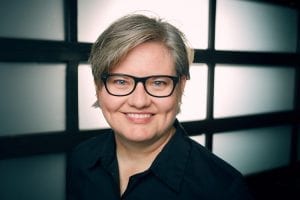 Shelving assistant, library branch manager, business analyst and now, director of product development – these are some of the job titles SIS graduate Donna George ('01), has held throughout her career.
The first job she ever had was at her neighborhood public library, and she loved it. While her peers were working in typical teen jobs at restaurants and retailers, she was happy to be at the quiet library, and had stable hours. But it was more than that – working in a public library set the stage for the rest of her career.
She continued working at a library all throughout high school and while attending Tennessee State University, where she earned an undergraduate degree in elementary education – and she knew she wanted to continue working in or with libraries.
"I learned through that experience that, if I wanted to continue working at a public library and to succeed – and make more money – I needed to get my master's in library science," she said.
But the program many of her coworkers had graduated from was through Vanderbilt University, and had been discontinued. George felt a little stuck, not knowing where or how to get her master's. Then, in 1997, she saw an ad pinned up at the Nashville Public Library stating that the University of Tennessee was starting a distance education program for a master's in library sciences.
"I knew back in '92 when I graduated with my undergrad that I needed to get this degree, and that it would be my ticket to success in the library world," George said. "But it's actually been my ticket to success everywhere."
The UT distance education program in 1997 was much different than it is now. As only one or two classes could be offered through distance education each semester, the program was five years long and followed a pre-determined path. George would typically travel to a location in Nashville to view a telecast of her class. But sometimes, classes were conducted a bit differently.
"I think it was my second or third course in the program that I took, young adult literature, and I got sent a humongous box of VHS tapes in the mail," she said. "They had recorded all of Dr. Jinx Watson's classes and sent us all VHS tapes. We were using some sort of online platform, but the actual courses, we were watching on VHS tapes and talking about later."
Distance education has come a long way since then, and so has George. After graduating with her master's degree she started at Ingram Content Group as a business requirement analyst, working as a liaison between public library clients and Ingram's developers. Ingram's main business is selling books to independent retailers and public libraries. In recent years, it added a division called Ingram Publisher Services, which manages sales, marketing and distribution.
"When I interviewed for my first position at Ingram, I told them I didn't know anything about business analysis. But they said they could teach me that, but that they wanted someone who spoke the language of public libraries," she said.
George is currently product owner for Ingram's business-to-business web platform called iPage, but there was a multi-year gap where she did work outside of Ingram. She was a business analyst for the California Testing Bureau, a division of McGraw Hill Education, at its Nashville location, and then she went on to work at a management consulting firm called C3.
"Then this job [at Ingram] opened up and it seemed like a dream come true. I wasn't really looking, someone told me about it. The job listing really read like my entire career up until this point," she said. Her current job positions her to work closely with public library clients, and George said it was a welcome return to her roots.
"They were looking for someone who gave credibility to our library users, and I had public library experience. And, thanks to UTK, I have my master's degree in information sciences. Which isn't super important to the job, but it is super important to the division that this position is in," she said.
It was her experience working in public libraries, as well as her master's degree, that clinched the job for her. George suspects it was the degree that pushed her into the lead over other qualified applicants. She's been working there for 2.5 years and the job has continued to evolve, allowing her to learn new skills. But, for George, it always comes back to libraries.
"My favorite part of my job is, because I'm still looked at on the library team as the iPage expert, I get to travel to a fair amount of library locations to talk to them about the services that Ingram provides," she said. "And I just love being in public libraries and hearing from them, about what they're doing, and what their challenges are. I love being able to get paid to do that."
Though public libraries are her love, George also enjoys seeing the expanding applications of information sciences. That's one of many reasons she currently serves on the SIS Advisory Board.
"I'm thrilled when I look on the SIS website and attend the advisory board meetings, and I see that the school is thinking about this degree in a broad sense. From where I'm sitting, it's so clear all the different things you can think about doing with this degree and the different pathways," she said. "I think that really mirrors what we're seeing with public libraries today. They're constantly surveying the landscape of their communities, and they're changing and adapting and finding ways to stay relevant."