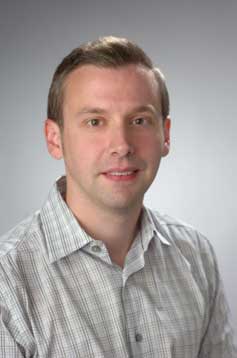 The School of Information Sciences is excited to announce its newest faculty member, Brian Dobreski, who will start teaching as an assistant professor this fall.
Dobreski earned a bachelor's of music from Nazareth College, and his master's in library and information sciences from Syracuse University. He will receive his PhD in Information Sciences from Syracuse University in spring 2019. He worked as a catalog librarian for Eastman School of Music and Syracuse University before returning to Syracuse as a doctoral student. He has also been an adjunct professor for library and information science courses at Syracuse since 2013.
He is also a recipient of the Eugene Garfield Doctoral Fellowship for his dissertation, "Values in Knowledge Organization Standards: A Value Analysis of Resource Description and Access," which he successfully defended in December 2018.
Dobreski said he is excited to be a part of SIS, which he described as goal-oriented and forward-thinking.
"The school has a vision, a direction, and everybody was on board with that. I'm looking forward to being a part of that team," he said.
Dobreski's research has centered around knowledge organization in various forms of systems, such as databases, classifications, catalogs, and archives. He specifically looks at knowledge organization in heritage settings, such as libraries, archives and museums.
He is looking forward to continuing that research at SIS, as well as collaborating with other faculty and students at the school.
"We are excited to welcome Brian to the faculty at SIS. Not only will he strengthen our existing expertise in information organization, but he will also extend it in new directions. His research takes a fresh look at classification systems and structures from the perspective of inclusion, and raises questions of representation equity," said SIS Director Diane Kelly. "He has extensive teaching experience, including in the areas of metadata and organization. He also has rich practical experiences on which to draw having worked as a cataloger at Eastman School of Music and Syracuse University."
As for the big move from the Northeast to Knoxville, Dobreski said it'll be an adjustment, but one he will happily make for milder winters. And, as an avid hockey fan, he's ready to trade in his old Buffalo Sabers jersey and represent with a Nashville Predators' one.