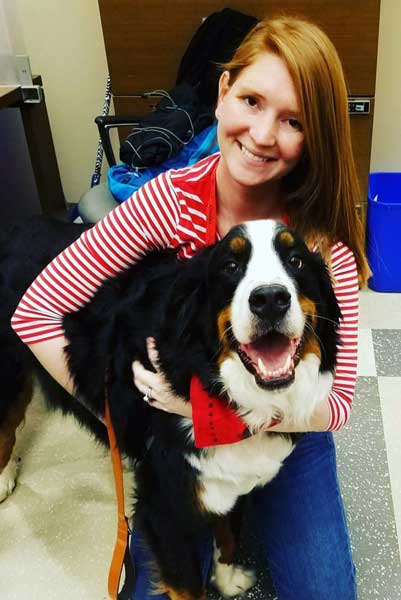 SIS alum Jordan Kaufman ('18) has been awarded the Tenopir-King Research Excellence Award for 2019, which provides support to a recent SIS master's graduate to work with SIS and Chancellor's Professor Carol Tenopir on research projects related to scholarly communication. Kaufman is currently a research associate at the Center for Information and Communication Studies (CICS) and has worked on several projects within that capacity.
Kaufman is thrilled with the award and excited to continue her research work with CICS. When she first entered into the MSIS program, Kaufman said she wasn't aware of the various pathways that were available in the information sciences field. She had always wanted to go to library school, and when her husband started getting his master's degree at the University of Tennessee, Knoxville, in animal science, she started looking at the MSIS program at UT. She decided to start taking some classes to see if she liked it, and it wasn't long before she was hooked."
"I just wanted to get a feel for it, and then I had my first class with Dr. [Carolyn] Hank and she was super inspiring." Kaufman said. "And I thought, 'This is for me, this is it.'"
Shortly after she started taking classes, she discovered the varied information sciences pathways, including User Experience and Assessment.
"I learned about the UXA program and I got my foot in the door there and that set everything in motion, it was a great experience to get involved with that," she said. "I didn't really understand what UX and assessment was, but I knew that I liked helping people and figuring out how to improve their services and it seemed like a great fit."
---
"I didn't really understand what UX and assessment was, but I knew that I liked helping people and figuring out how to improve their services and it seemed like a great fit." – Jordan Kaufman, CICS research associate, SIS alum
---
Kaufman said her interest in UX was also fueled by a practicum she did with Regina Mays, the assessment librarian at UT's Hodges Library. It sparked her interest because she saw how little things could affect the experience students had at the library. She also enjoyed gathering and using data to tell a story about the library and its patrons' needs.
She joined the Experience Assessment cohort that was funded by the Institute of Museum and Library Services (IMLS), and focused on academic library user experience and assessment. The UX pathway at SIS gives students the skills to "improve design and development of information systems and to measure usability of products and applications."
Kaufman said her experience as an MSIS student was a great one – she was able to present at three different conferences, including one at Oxford.
"I had a lot of great mentors, and other students in the program became really good friends and colleagues," she said.
Before she became an SIS student, Kaufman found herself in the library through a unique avenue. When she first moved to Knoxville, she was working at UT's Arts and Sciences Advising Center, and everyone there came to know her as a dog enthusiast. They began telling her that there were dogs at the library sometimes, and so she went to check it out and discovered the H.A.B.I.T. (Human-Animal Bond in Tennessee) program.
H.A.B.I.T. trains animals to provide pet visitation to a variety of places, such as retirement homes, schools, and several locations on the University of Tennessee, Knoxville, campus, including Hodges Library. Once Kaufman learned more about the program, she signed up her Bernese mountain dog, Sampson, for training.
"I knew my dog would be good at it, he has the perfect temperament and personality," she said. They've been volunteering with H.A.B.I.T. for two years now, starting at Hodges Library, and now at The Veterans Resource Center at UT. She said having Sampson at the library really helped to make the library more inviting for students, and her background as an SIS student helped her to speak to students about the library's resources.
Kaufman is also grateful to the faculty she works with, including SIS and Chancellor's Professor Suzie Allard, who lets Kaufman fit H.A.B.I.T. volunteering around her work schedule.
"I love that H.A.B.I.T. is a part of the UT community, and that everyone knows what it is and that it's special. I'm glad I can do it and be a part of it, and that my bosses know and care. That support is amazing to have."
Kaufman said her current work has been exciting, as she has been helping with the final experience assessment cohort, has done several projects on assessment of graduate student services in libraries, and is working on research projects for the NSF-funded DataONE project on research data management issues. But she knows she'll need to move on from being a research assistant someday, and she has her eye on being an academic assessment librarian or a user experience librarian.