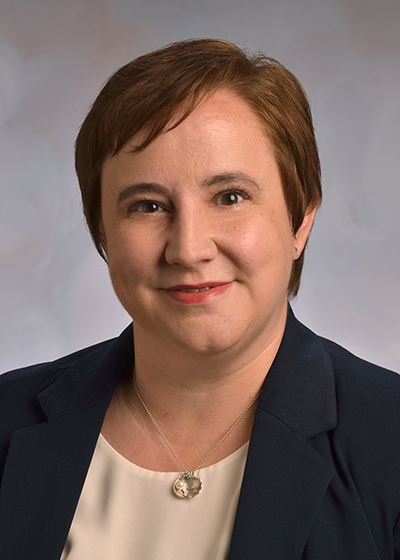 Student Spotlight: Student Spotlight features one of our current School of Information Sciences Master students. Our students come from a variety of backgrounds, careers, locations, and academics, and we want to highlight who they are and why they chose the University of Tennessee, Knoxville SIS program.
Featured student: Sarah Gonzalez
Location: Knoxville, Tennessee
Current job: Sponsored programs coordinator at the University of Tennessee's Office of Research and Engagement.
Past job(s): Has worked at UT for more than 15 years, in positions including: accounting specialist at the College of Social Work; assistant to the Vice Chancellor of Diversity; administrative services assistant at the Haslam College of Business.
Family: I have a daughter who is 12 and a son who is 9. Being an adult student and having children, it encourages me to see how they feel about my experience being in the master's program. I really talk to them about how mom is pursuing her master's. I talk to them about how if they want to do it, not to let anything hold them back. Some families take that for granted, that everybody is going to go to college, and I don't take that for granted. I really talk to my children about how I want them to pursue schooling and how they can do it, or not do it. The most important thing to me is to make sure you're pursuing a career that makes you happy, there's no pressure either way. Don't set limitations on yourself.
Why UTK?: My dad grew up on campus, but I'm a first-generation college student – my parents did not go to college. They were diehard UT football fans and they were surprised when I decided to get my degree. Being able to work at UT and get my degree, and then get my master's, has been a big advantage. I've had some amazing supervisors and mentors who helped me figure out how to go to school full-time and work full-time. I'm entering my second year in the MSIS program this semester.
Why SIS?: Libraries have always played an important role in my life ever since I was a child and got my first library card. Once I started studying the information sciences minor, I realized it was so much broader than just libraries. You don't realize all the aspects of information initially, or how important it is, and when I was finishing my minor I decided to focus on data and web application. I really enjoyed the minor, and once I got my bachelor's, I knew I wanted my MSIS. In addition, it's a well-known program, it has a great reputation and the professors are great.
The distance education component is also important for me – I work full-time, I have two children and have a lot going on. Even though I'm an on-campus student, I take online classes and having that flexibility is huge. I'll have a class today that I'll take on my lunch hour, and that's a great benefit of being in this program.
What are your challenges? When you're a first-generation college student you maybe don't have the goal of getting a master's degree. Getting the bachelor's was an enormous effort for me and something I wasn't sure I'd ever be able to accomplish. I'd encourage lots of first-generation college students to keep going. Even if your family or your parents aren't supporting you in it, do it for yourself. I told my parents that I finished my bachelor's, and I asked them if they wanted to watch me walk across the stage. They said no. And when I told them I was going to pursue my master's, they asked why. So I had to think about how I'm not doing this for anybody else, this is for myself. Accomplish it for yourself, not to make anybody else in your family happy.
Pathway: I'm always interested in diversity, but I'm also interested in research and data management. My concentration in this master's program has been data management and data analysis. In previous positions, I worked with data for accreditation purposes at Haslam College of Business, and I also worked with data at the Office of Diversity, with a diversity metrics group. To me, data is everything. You have to show me the data for me to see the progress and to back up your assertions on how well a program is doing. I like working with data, and I think it's often overlooked. It's important to track data, to take care of it, to make it accessible and easy to interpret. It's very important to me, and as I work in research and I see how important that research data is and how people use it for federally funded projects. You need to have a good data management plan from the beginning.
Student groups: I am vice president of the ASIS&T student group on campus and I am on the Director's MSIS Student Advisory Council, and I'm also a student representative on the library's Diversity Council. I've experienced from an administrative standpoint when I was with the Haslam College of Business and with the vice chancellor, trying to help student groups. So I know that just having students who show up and get involved, even if you don't want to be an officer, that's huge. Creating that community around your education, those friendships and the information you get from that community will help you create a network that will take you on throughout your professional career. I worked with the Latin American student organization when I was with the Vice Chancellor of Diversity, and it was a group that was kind of on hold and they started back up. And it was such a privilege to help them raise membership and get going again, and I've seen them hold some wonderful events and really flourish. If you're a student and at all interested in being an officer and serving in a student group, you should do it.