Several faculty and students attended the 2018 fall meeting of the American Geophysical Union in Washington, D.C. this past week.
SIS Associate Professor Wade Bishop and master's student Rose Borden gathered information for the Earth Science Information Partners (ESIP) project, "Informing Science Data Help Desk
Staffing through Transaction Analysis," which is based on research supported by ESIP to observe how scientists interact with the data helpdesk. Bishop also presented, "Bouncing the FAIR data principles off of seismic reflection geologists," at the meeting.
Also in attendance were SIS and Chancellor's Professor Suzie Allard, who said that an estimated 26,000 people were at this year's meeting. The AGU has more than 62,000 members.
"The geophysical research community is serious about making data available and reusable, which led to lively discussions both during the sessions I spoke in and throughout the conference," Allard said. "It is always exciting to have these kinds of conversations with scientists and engineers whose work is expanding the boundaries of our knowledge and developing solutions to improve conditions for society."
Also attending was SIS master's student Josh Borycz, who presented his poster "Assisting Geophysicists in Data Management Perceptions and Opportunities," which was co-authored with College of Communications and Information doctoral student and SIS alum Lisa Christian, Allard, and SIS Professor Carol Tenopir, who is also deputy director for USGS.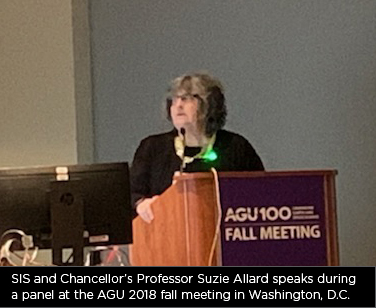 Allard was an invited speaker for the panel discussion session "Changing Culture through Credit in Support of Enabling FAIR Data" and her talk was titled "Cultural Considerations and FAIR." She was also invited to be a member of the panel for the "Data FAIR Town Hall – Credit for Data Work," which was led by Shelley Stall, senior director of data leadership for AGU.