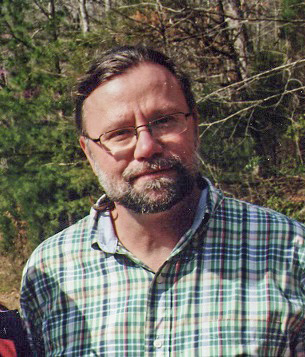 Scot Smith
Location: Oak Ridge, Tennessee
Academic Background: Bachelors of arts in humanities, East Tennessee State University; master of arts in teaching, ETSU; and master's in information sciences from the University of Tennessee, Knoxville. I have completed numerous graduate hours in European History as well. Work Background: Teaching for almost 30 years overall, and for 20 years at University of Tennessee, Knoxville. Been a librarian for 22 years. Currently a librarian at Robertsville Middle School at Oak Ridge Schools.
What's a typical day look like for you: It starts at 7 o'clock, I'm responsible for laptops, so I check those out to students. I teach three classes every day and I have classes that rotate in for various library activities every day. I checked out over 200 books to 5thgraders today.
Every day is different, and that's one of the reasons I like being a librarian. Some days, every hour is different….there are always so many different tasks that have to be done each day. It would be impossible to fall into a routine as a school librarian. I manage the webpage for my school system, as well as for my school. I'm in charge of morning announcements, which we broadcast live from the library. I am also the school's auditorium technician, so there are times I have to set up sound systems and the lighting there for presentations and concerts.
How did you become a lecturer at SIS?
The department needed someone to teach the 330 class (Children's Literature) in the summer, and they asked me, so I said yes. Then in the fall they needed someone else, so I taught again. At some point, the department needed someone to teach 572 (Resources for Young Adults) and they asked me to take over that class, as well. I've been teaching that class for 18 years now. It provides a good balance between what I do for my real job, which is a middle school librarian, and doing the academic university-type teaching.
They feed into one another. It keeps me interested in both, and, they both strengthen each other – I'm a better librarian because I teach in the summer and I'm a better lecturer because of what I do from August until June.
What class do you teach at SIS?
Resources for Young Adults, 572 – and I taught 330, Children's Literature for a long time, about 15 years but I don't teach that any more. In Resources for Young Adults, we discuss information literacy, media literacy, I teach all the different literary genres for young adults, and we do a collection development project. We talk a little bit about programming, but not much–that topic is covered in 573. The major assignment for that class is a challenged book exercise – it's important for students to have experience knowing what to do when a book is challenged. Most of the books on ALA's Most Challenged list are YA titles. When a parent or school board member, or member of the community thinks that a book is inappropriate for, say a middle school library, they'll file a complaint and ask that book to be removed. So, we have to be prepared if a book is challenged – there's a process that every school system or public libraries have to follow. The freedom to read is an important theme for 572, but students need an understanding of age appropriateness – such as, why some books that are OK for high school aren't OK for middle school.
Who typically takes your class?
Most of my students are either on the school library track or they want to work in public libraries. I also have some academic librarians, too, because there's some overlap. There's not a lot of difference between a high school senior and a college freshman.
When did you decide to be a librarian?
When I finished my humanities degree, I thought about library school. It's always been there, in the back of my head when I was teaching high school English and History. I was a Peace Corps volunteer for three years (from 1993-96 in the Ukraine) and when I came back from the Peace Corps, I went to library school. I like to read, so I was looking for a career that matched my enthusiasm for reading and literacy. As an English teacher, I wasn't reading what I wanted to read, I was grading student essays in the evenings and on weekends, and that wasn't nearly as fulfilling as the type of reading I like to do. School librarianship was a way to match what I enjoy personally with my career.
Why did you want to be a middle school librarian?
I'm not really an elementary school personality. I worked in high schools for four years, but I really like middle school kids because they are still enthusiastic about reading and have time for reading on their own.
What else are you involved in?
I'm active in YALSA – Young Adult Library Services from ALA – I do volunteer work for them. I was on 2018 Michael L Printz Award Committee; the Printz is the major award for Young Adult Literature. I might have read the better part of 300 books for that year. I'm co-chair for Volunteer State Book Award, Tennessee's children and young adult book award, which is co-sponsored by the Tennessee Library Association and Tennessee Association of School Librarians. I am currently on the Teacher's Advisory Council for the National Humanities Center in Durham, North Carolina.