Thirty years as a reference librarian at Oak Ridge National Laboratory has afforded Mark Dickey a unique vantage point of the facility that few have experienced.
"I've seen a lot of changes here, that's for sure, it's been incredible," he said, He was present when all three of the Oak Ridge facilities – ORNL, Y12 and the K-25 plant – were managed by one contractor. In fact, he precedes his own personal story with a bit of trivia about the national labs, and their evolution to the present-day.
ORNL, once known as the X10 plant during its days of operation within the Manhattan Project, now exists as a hub for researchers of multi-disciplinary fields. The Manhattan Project is best known for the work at Y12 that created the fuel for the atomic bomb, and now the purpose of Y12 is to, "retrieve and store nuclear materials, fuel the nation's naval reactors, and perform complementary work for other government and private-sector entities," as well as other vital national security roles, according to Y12's website.
---
'I don't think it was an accident that I gravitated to this – I have a love of the hunt for information, and I like the inquisitiveness.' – Mark Dickey, reference librarian at The Research Library at ORNL
---
Dickey's pride in his place of work shines through as he points out a mural in the visitor center, easily identifying each historic person featured in it, or when he shows off the world's fastest computer, Summit, which is housed near the Research Library at ORNL, where he is a reference librarian.
All of this history to say – there were once three libraries, one at each of the plants. When Dickey first started working as a librarian, he spent half of his time at The Research Library at ORNL, and the other half at Y12 Technical Library. Technically, he says, he's been working at the lab libraries for 32 years, the first two of which were as an intern while he was still in the SIS master's program at the University of Tennessee, Knoxville.
Like many other librarians, Dickey found his path to information sciences after first getting degrees in a different field of study. He earned a bachelor's degree in psychology from Pennsylvania State University, and a master's in psychology from Austin Peay State University in Clarksville, Tennessee.
"It looked like psychology wasn't going to take me anywhere, so I looked at options and it looked like library and information sciences would be a good job for me," he said. "My twin brother was in graduate school at UT, and I had another older brother living in Knoxville with his wife and family."
So he moved to Knoxville, got a job as a page at the McClung Collection at the Knox County Public Library, and entered into the information sciences program at the University of Tennessee. Because he was working, Dickey said he took three years to complete the program; that first year, he thoroughly enjoyed his job at the McClung Collection, which houses historical and genealogical information about all of East Tennessee. He'd answer inquiries and help researchers track down relatives and plot family trees. It was a great way to dip his toes into a career as a librarian.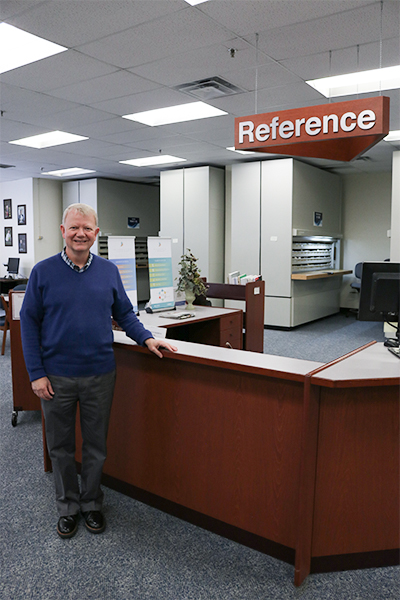 He was one year into his master's program when he earned an internship at ORNL, working there 20 hours a week. This is a tradition that has carried on through the years, and Dickey was quick to point out that there are currently three UT SIS students currently interning at The Research Library at ORNL.
Once he graduated from the program, Dickey did apply for other information sciences jobs – some even outside of the state. But he was offered a full-time position working for ORNL and Y12 as a reference librarian, and happily accepted the job. By that time, his parents had also moved to the area, and he preferred to stay near them and his brothers, he said. "I was fortunate – being in the right place at the right time had a lot to do with it," Dickey said.
Dickey said the Department of Energy decided to split up the three labs in 1998, to be managed by three separate contractors, and shortly thereafter changes were made to the libraries at the labs. Y12 closed their library, and now buy library services from ORNL, such as access to databases, electronic journals and books.
"So, the first 10 years of my career was split between ORNL and Y12. I really enjoyed the variety and being in different environments. Y12 is very industrial, it's a manufacturing setting. ORNL is much more researched-based," he explained. "They had different clientele, different information needs. It really gave me a broad-based experience for handling different materials."
In 2005, Dickey switched to working full-time at ORNL, rather than split between two settings.
Of course, a lot has changed since those early years, mostly due to the explosion of technology and the advent of the internet, he said. He recalls when they had dial into a system that allowed the librarians to do online searches of databases for their clients – now, of course, most clients can easily conduct such searches themselves.
He also chuckles about the time his boss was asked to add electronic journals to the collection – but no such thing existed yet. Eventually, publishers caught up with the demands and started digitizing the journals, and now The Research Library's entire collection of current journals is electronic.
Dickey enjoys serving the large community at ORNL – which, between researchers, engineers, technicians and administrative staff, creates about a population of 5,000 people on site. And in the summer, 500 students join the team to work at ORNL.
"We're a full-service library, and we have an extensive range of electronic databases, e-journals, e-books and technical report collection," he said. "And what we don't have, we get through interlibrary loans."
He is one of two reference librarians that work at The Research Library now, and their work often consists of document retrieval, as well as retrieving metrics for research output of the laboratory.
Dickey doesn't have a date for retirement in mind yet, though he does know it will happen someday because he'd like to travel a lot more. In the meantime, he looks back over the past 30 years, and is satisfied.
"I really do think I found my niche, and I'm well-suited to what I do. I don't think it was an accident that I gravitated to this – I have a love of the hunt for information, and I like the inquisitiveness," he said.