Featured student: Stephen Spann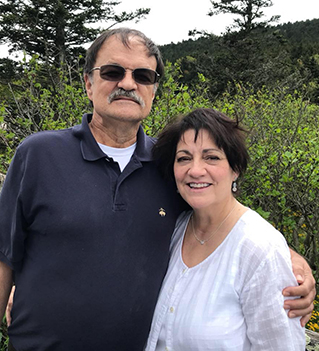 Location: Franklin, Tennessee
Past Job: Lawyer
Current Job: Working as a substitute librarian and doing a practicum at Vanderbilt Libraries in Nashville
Why SIS: I've been a lawyer for several years, and I realized a few years ago I wanted to do something different with my degree than just practice. Librarianship has always appealed to me, and there's a career path out there for law librarians.
Why University of Tennessee, Knoxville?: I got my law degree from UT, so I was familiar with the school and I checked out the SIS program and saw how well it was regarded and my search stopped there.
Family: I couldn't do this without the support of my wife Kimbra, she's been very understanding. And we also became empty nesters, so the timing worked out for my to be able to do this. I have three children, and I'm going to college at the same time as one of them. My daughter was showing me last night a new way of outlining that she's come up with and she wants me to try it for my classes.
Fun fact: I'm also doing a practicum, and that's a lot of fun, I'm really enjoying that. I'm at Vanderbilt Libraries in Nashville, and I split my time between the law library and the divinity library. The libraries are very glad to have you, and they are very helpful to get training. They realize you're there on a practicum and you don't have to fly solo until you're ready to. I have been able to see the practical application of what I've learned in the classroom. And it goes both ways – school helps work and work helps school.
How did you feel about going back to school?: I was a little nervous about that, but it's worked out really well. It's taken a little bit of getting used to, but not much. It's been very invigorating to get back in a classroom, it's like breathing fresh air after my regular legal job had gotten kind of stale and unrewarding. It's nice to have a set of new goals to shoot for.
What are your post-graduation plans?: My first goal is to work as a law librarian, my fallback position is academic librarian, and my third spot would be working in archives at a public library.
What has surprised you the most about Information Sciences?: I knew there was going to be technology and it would be new to me, but the sort of things that you can do with technology and libraries has been an eye opener.