The dynamic field of Information Sciences (IS) encompasses careers of all types, settings, and disciplines such as data analysis, library science, user experience (ux) design, information architecture, corporate taxonomy, and many others. Careers in information and library sciences can be tailored to fit almost any goals you might have for your professional future.
In fact, whether you choose to pursue a master's program or undergraduate program in the information sciences, the diverse nature of an IS degree from the University of Tennessee enables you to take your passion for information, technology, people, and/or libraries in any of hundreds of traditional and nontraditional directions, and can be applied to the setting that most excites you!
Which Information Sciences Career Direction is Right for Me?
---
Information Sciences Career Options
Information Science roles generally focus more on working with information as a strategic asset for organizations, ranging from nonprofits to corporations to government agencies and others. There is a wide array of careers in IS, which include data analyst, UX designer, corporate taxonomist, web content analyst, digital archivist, and more! Individuals commonly pursue either a Bachelor's and/or Master's in Information Sciences to ready themselves for these careers.
---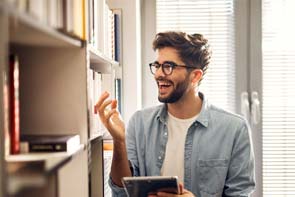 Careers in Libraries & Cultural Institutions
Library Science (LIS) roles are those found in a variety of settings, including school, public, and academic libraries. Individuals interested in an LIS career track can pursue a variety of positions, including (but not limited to) academic librarian, law librarian, school librarian, data curator, instruction librarian, and emerging technology librarian. Many of these careers require an ALA accredited Master of Sciences in Information Sciences Degree.
Is a career in library and information sciences a good fit for you?
If you love working with people; being part of high-performing teams; organizing information; researching hard-to-find information; and turning technology into solutions, systems, and strategic and actionable results you would excel in an IS career!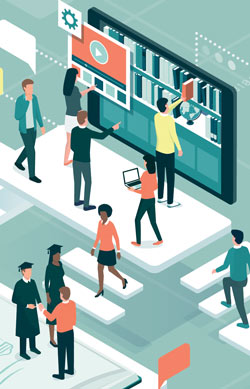 A career in information and library sciences may also be a good fit if you're passionate about contributing to the common good, with some trajectories including working with children and early literacy, helping a community grow and thrive, or working with geographic information to identify patterns and emerging trends for grant-funded programs.
Or perhaps you've always wanted to do scholarly research; transform information into action, whether community-based, social, or political; or work with STEM resources?
Or maybe you're a numbers person at heart, ready to turn data into analytics that drive decisions and outcomes?
This is a small sampling of the many ways graduates of information and library science degree programs are deploying their skills in their communities, companies, and other organizations. But it's also an indication of the range and diversity of opportunities within the IS career universe.
In addition, information skills developed in the MSIS program at the UT School of Information Sciences are so highly adaptable that they can open doors into almost any type of work setting you can imagine. Because of that flexibility, IS professionals often find that they can shape their careers to support their life circumstances, whether by working remote, part-time, on a project basis, or as an on-call information professional.
---
"Information skills are so highly adaptable that they can open doors into almost any type of work setting you can imagine."
---
What Kinds of Work Might You Do as an Information Professional?
The common thread among information and library science careers is working with information. But beyond that, your interests and the skills you choose to develop throughout our IS program will determine what type of work you do.
For example, you might discover a passion for working with young adults and start your career as a teen librarian in a public library. Or you might find that you love to do business research, and work in competitive intelligence for a start-up or become a business librarian for either a large public or an academic library. In fact, as you go through the UT information sciences bachelors and/or masters programs you'll be encouraged to "try out" as many different types of information work as you can to get a good sense of what most engages you. You'll want to explore questions like –
Do you prefer working with people, systems, technology, or data?
Do you thrive in a team or more solitary environment?
How do you feel about working with technology?
Do you prefer a familiar routine or always-changing project work?
Why? Because the universe of information and library science careers offers all these options and more. Consequently, because the work you do and who you might do it for is so diverse, you can easily take your IS career in a new direction should you choose to do so.
What if You Don't Know What You Want to do With Your IS Degree?
Many new students don't know for sure what they want to pursue professionally, which is understandable – it's difficult to make a definitive choice before you know what your options are. But in addition to mastering key information competencies, in the UT program you'll have a chance to explore those options. (For now, you might want to check out our Career Pathways FAQs.)
The UT faculty are not only contemporary leaders in their fields, they also take a deep interest in students and their career explorations. In addition, throughout your program you'll have multiple career information opportunities including:
Connecting with expert guest speakers.
Informational interviews with practitioners working in your areas of interest.
"Try out a career" opportunities through experiential learning for credit hours.
Attend career events and conferences.
Become part of the UT SIS alumni network.
Participate in "field trips" to see information professionals working in different environments.
Information & Library Sciences Master's Courses & Licensure
Those pursuing their Master of Science in Information Sciences degree often pursue various course pathways and licensure, although the top ranked MSIS program at the University of Tennessee offers personalized curriculum to meet each student's needs. Common LIS course pathways include:
Undergraduate Information Sciences Degree Concentrations and Minor
Those pursuing their Bachelor of Science in Information Sciences (BSIS) degree often pursue two concentrations, or a general pathway through courses. BSIS concentrations include User Experience Design (UXD), as well as Data, Information Management, and Analytics (DIMA).