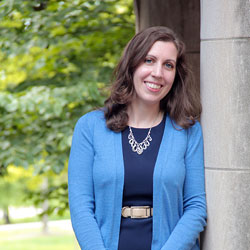 Anna Sandelli is Associate Professor and Head of Teaching and Learning Programs at the University of Tennessee Libraries, where she oversees a department focused on information literacy, student success, and online learning. Previously, she served as Student Success Librarian for Undergraduate User Experience, where her work included serving as liaison to the UT Libraries' transfer student initiatives and experiential learning, as well as teaching in "one-shot" and full-semester settings. Her recent work has included publication and presentations on using ethnography to explore student-created learning communities, and service on the Association of College and Research Libraries Instruction Section's (ACRL IS) Research and Scholarship Committee as part of a team revising its "Research Agenda for Library Instruction and Information Literacy." She was also recognized as a 2017 American Library Association Emerging Leader. She started teaching for SIS in 2020.
Education:
MS, Library Science, University of North Carolina at Chapel Hill
BA, Journalism and Mass Communication, University of North Carolina at Chapel Hill
Areas of Expertise:
Information Literacy
Academic Libraries
Instructional Assessment
Courses taught:
INSC 538 User Instruction
My favorite thing about working at SIS is:
The opportunities to connect with and learn from students.
Select publications:
Sandelli, A., Coleman, J., & Mack, T. (2020). Creating an inclusive teaching and learning program. In C. Bombaro (Ed.), Diversity, Equity, and Inclusion in Action: Planning, Leadership, and Programming. Chicago, IL: ALA Editions.
Sandelli, A., & Cunningham, S. (2019). Ethnography in student-owned spaces: Using whiteboards to explore learning communities and student success. New Review of Academic Librarianship, 1-16. doi:10.1080/13614533.2019.1616308
Sandelli, A. (2017). Through three lenses: Transfer students and the library. Reference Services Review, 45(3), 400-414. doi:10.1108/RSR-10-2016-0074