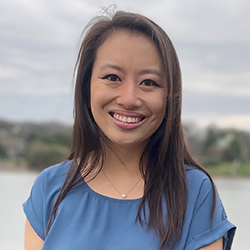 Jessica
Barfield
PhD Student; Graduate Teaching Associate
I am a PhD student in Information Sciences and currently am teaching INSC 210. My research interests include human-robot interaction and human-computer interaction.
Education:
University of Wisconsin, MS in Marketing
Duke University, Masters in Management Studies (MMS)
Dartmouth College, BA in Environmental Earth Sciences and Economics
Areas of Expertise:
Human-Computer Interaction
Human-Robot Interaction
Research Methods
Courses taught:
 INSC 210 Foundations of Information Technology
My favorite thing about working at SIS is:
"The collaborative work environment and inspiring research throughout all levels of the school."
List up to five select professional memberships:
Select publications:
Bilal, D., and Barfield, J. K., Voice Switching in Voice-Enabled Assistants (VDAs), Human Computer Interaction International Conference, 2021.
Bilal, D., and Barfield, J. K., Hey There! What Do You Look Like? User Voice Switching and Interface Mirroring in Voice-Enabled Digital Assistants (VDAs), ASIS&T Annual Meeting, Salt Lake City, Utah, 2021.
Barfield J. K., Discrimination and Stereotypical Responses to Robots as a Function of Robot Colorization, UMAP '21: Adjunct Proceedings of the 29th ACM Conference on User Modeling, Adaptation and Personalization, 109–114, 2021.
Barfield, J. K., Self-Disclosure of Personal Information, Robot Appearance, and Robot Trustworthiness, IEEE International Symposium on Robot and Human Interactive Communication (Ro-Man), 2021.