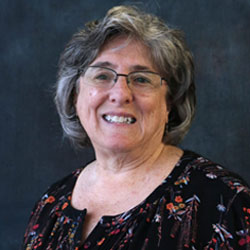 Cindy
Welch
Clinical Professor; Coordinator of Youth Services
Name Pronunciation:
445 Communications Bldg.
865-974-7918
Education:
PhD, University of Illinois-Champaign/Urbana
MSLS, University of Kentucky
MS, Morehead State University
BBA, University of Kentucky
Expertise:
School (PreK-12) Librarianship
Youth Services
Public Librarianship
U.S. Library History
Courses taught:
INSC 571 Children's Literature
INSC 576 Storytelling
INSC 560 Collection Development & Management
INSC 595/6 Practicum in School Libraries
INSC 551 School Library Media Centers
INSC 583 Youth Informatics
My favorite thing about working at SIS is…"
Being able to do what I love (teaching) for some wonderful people (students) while being surrounded by talented colleagues!
Professional memberships:
Tennessee Association of School Librarians (TASL)
Tennessee Library Association (TLA)
American Association of School Librarians (AASL)
Association for Library Service to Children (ALSC)
Young Adult Library Services Association (YALSA)
Select Publications:
Welch, C. (2012). What and How We Teach Now: A Survey of Youth Services Faculty.Welch, C. (2011). Journal of Library & Information Science Education (JELIS) 54(3), July 2013; 220-234.
Children's Stories Through the Air: Librarian-Broadcasters, 1922-1941. Library Quarterly 82(2); 141-160.
Welch, C. (2008). Librarians of the Airwaves: Reading in the Ether. In M. Keith (ed) Radio Cultures: The Sound Medium in American Life; 287-297. New York: Peter Lang Publishing Group.
Welch, C. (2010). Making Connections: YAAN as a Paper Blog? In the Library With a Lead Pipe, April 14, 2010, online at www.inthelibrarywiththeleadpipe.org/2010/making-connections-yaan-as-a-paper-blog/; 5 pages. Invited article.