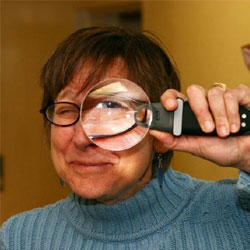 Audrey J.
Williams
Vice President, Information Services and CIO
Pellissippi State Community College
Education:
B.S.Ed, Tennessee Technological University, Major: Secondary Education: Chemistry;
M.S.Ed, UTK, Major: Curriculum and Instruction: Science Education;
M.S.I.S. UTK
Biography:
Audrey J Williams is the Vice President of Information Services and CIO at Pellissippi State Community College in Knoxville, Tennessee USA where she works with faculty and staff on technology projects of all sizes. Earlier in her Pellissippi State service, she was the Instructional Technology Specialist and then the Director of Educational Technology Services. Prior to Pellissippi State, she taught high school physics, mathematics and chemistry and worked in the science museum/informal science education field at the American Museum of Science and Energy in Oak Ridge, Tennessee. Her most recent publication was an entry in Hacking the Academy, a book crowdsourced in one week. A techy-feely kinda person, when she is not in front of a screen writing blog posts, editing photos and videos or researching emerging technologies, she enjoys geocaching, bowling, kayaking and cooking.
Special Awards or Honors:
Tennessee Board of Regents: Regents Online Campus Collaborative Specialist Excellence Award
Pellissippi State Community College Foundation Board Innovations Award
TBR Distance Education Innovations Award
Women in Higher Education in Tennessee Woman of Achievement
Phi Beta Kappa