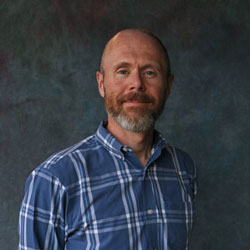 Scott Sikes was in the business world when he watched his wife work a full-time job and earn a master's degree. Once he realized how doable it could be, he started thinking about exactly how he could do the same thing, and what kind of degree he wanted.
He had done some research, but hadn't settled on an area of interest yet when one day he was talking with the director of the county library system in his area.
"One day I was sitting down and having coffee with her, and she said, 'Why aren't you looking at the information sciences program out at UT?'," he recounted.
That very day he reached out to the program and it wasn't long before he was speaking with faculty about getting a master's of science in information sciences.
"I always had an interest in the University of Tennessee, I grew up a Tennessee fan, my grandfather got a master's degree here," he said. "It was a perfect storm of things."
But it was more than just the university that drew his attention, it was the program itself, and the field of study. The broadness of information sciences, and the opportunities within it, interested him. His experience with the SIS program is what led him to go straight into the College of Communications and Information PhD program after he graduated in 2018.
"The master's program turned out to be so much more than I expected. I realized that I had put on hold these very early dreams of being in academia as a researcher and as a professor, which is why I went directly to the PhD program," he said.
In fact, he was hired at his current position at Emory & Henry College in Virginia because he entered the doctoral program. He initially expressed interest in an adjunct position, but when the hiring faculty saw he was going to get his doctorate, they offered him a full-time position.
Now, Sikes is simultaneously learning and researching in the PhD program while applying skills in the classroom at his job.
"It's an interdisciplinary program and I'm teaching civic innovation, very much rooted in sociology, anthropology, Appalachian studies. It's all project-based learning, and I've been able to create unique projects for our students related to archives and the digital humanities," he said.
His current research is studying how teachers involved in the 2018 and 2019 West Virginia teacher strikes used social media to organize themselves and disseminate information to effect social change. While he thinks some may consider his areas of interest to be on the periphery of information sciences, he considers them central, and he appreciates the opportunity to explore them.
"I got the sense that I could have some flexibility and freedom here to explore information sciences from the broadest social perspectives," he said.
Though he's still somewhat new in the program, Sikes said it's been a terrific experience thus far.
"It's been amazing, it's been far more than I could have ever expected. Even doing the online master's program, I felt so connected to this school and so connected to my classmates. That's another reason why doing the PhD program here was so important to me – I already felt like I was a part of the community," he said.