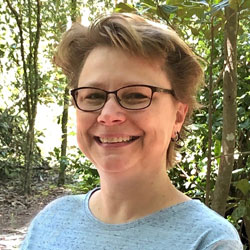 Lisa
Ennis
Board Position:
Vice President
Job Title:
Director of Library & Learning Resources, Professor of Library & Information Sciences
Place of Employment:
Alabama College of Osteopathic Medicine
SIS Graduation Year:
1997
Education:
MPH, Environmental & Occupational Health, University of Alabama at Birmingham, 2020 (expected)
MS, Information Sciences, University of Tennessee, 1997
MA, American History, Georgia College & State University, 1994
BA, History, Mercer University, 1992
Biography:
In her current position at the Alabama College of Osteopathic Medicine (ACOM) in Dothan, AL, Lisa manages all aspects of the library and learning resources for the college. In addition, she serves as course director for Foundations of Modern Health Care II and III which focuses on evidence-based medicine, epidemiology and public health, and informatics. Her other teaching experience includes Government Information Sources for Valdosta State University's MLIS program and Western Civilization for Georgia College & State University and Pellissippi State Community College. Prior to her appointment at ACOM Lisa served as Systems Librarian for the Lister Hill Library of the Health Sciences at the University of Alabama at Birmingham for nearly ten years. Lisa has published on numerous library topics including digital reference, management, and technology and is the author of The Accidental Health Sciences Librarianand Government Documents Librarianship: A Guide for the Neo-Depository Era. A Master Gardener with a certificate in native plant studies, Lisa can often be found outside looking for native plants or playing with her rescue dogs.
Professional Memberships and Offices Held:
Medical Library Association
Southern Chapter of the Medical Library Association, Hospital Libraries Committee member
American Public Health Association