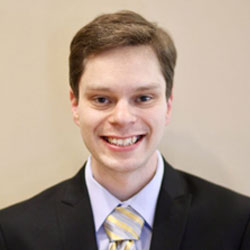 Andrew
Grissom
Board Position:
SIS Advisory Board President
Job Title:
Director, Information Center and Practices
Place of Employment:
Catalyst
SIS Graduation Year:
2015
Education:
MLIS, UT, 2015
BA, Rhodes College, 2012
Biography:
Andrew Grissom has been a librarian with the Catalyst Information Center since 2016. Catalyst is a global nonprofit organization with a mission to accelerate progress for women through workplace inclusion. In his role, Andrew answers complex custom research questions on diversity, equity, and inclusion (DEI) topics. He co-leads Catalyst Practices, which profile leading-edge corporate DEI strategies, initiatives, and programs. He is also a member of the Catalyst CEO Champions for Change project team and has served on numerous other cross-functional teams including the Catalyst Award Evaluation Committee. While Catalyst is based in New York City, Andrew works virtually from his home office in Seattle, Washington. Before joining Catalyst, Andrew was a librarian at the Paul Barret, Jr. Library at Rhodes College. He has published papers in Library Resources & Technical Services and Reference & User Services Quarterly.
Special Awards or Honors:
Andrew was selected by the American Library Association as a member of the 2017 Class of Emerging Leaders.
He also received the Gary R. Purcell Award from the School of Information Sciences in 2016.
Professional Memberships and Offices Held: