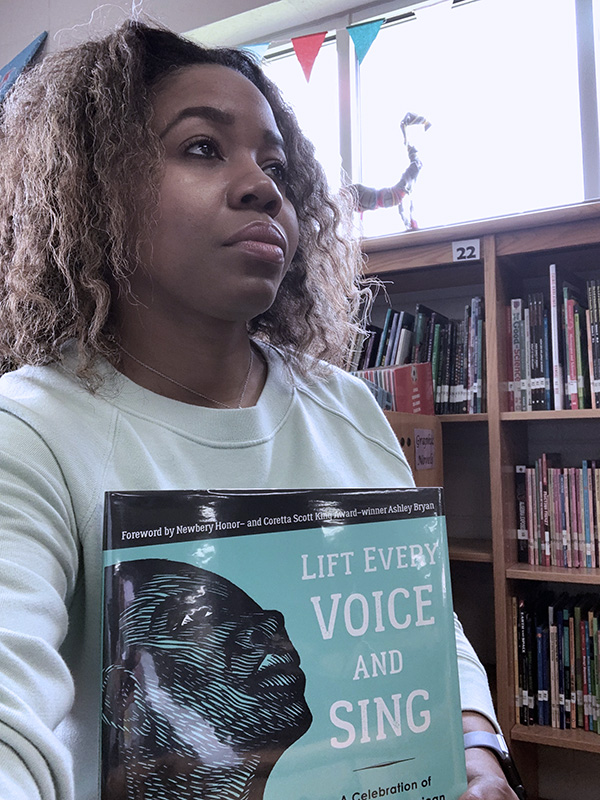 Erika Long ('16) was working with children in an after-school program, and as an academic mentor and tutor, when she realized she could do more for them. She wanted to provide children with lifelong skills that would make them successful academically and professionally, and she settled on the best way to do that: become a school librarian.
So Long set off to accomplish her new goal. Not only was she required to get a master's degree in information sciences, she also needed to become a certified teacher. She had earned her undergraduate degree from the University of Tennessee, Knoxville, in sports management and psychology, and was working part-time at the university when she decided to further her education.
"UT [SIS] was perfect because I was already a Vol, plus the online learning component really worked for me," she said.
Long was hired as a library clerk in the Knox County School District when she started the master's program in 2014,  which gave her some practical experience in a library. Shortly after graduating, she began working as a librarian at a high school in Knoxville, but then an opportunity "fell in her lap" that she couldn't miss. That opportunity was her current job as school librarian at Thurgood Marshall Middle School in Antioch, Tennessee.
"High school to middle school is a huge shift. It's very different in how you communicate with students, and the scheduling is different as well. You'll find in middle school that it's a make or break time with students using libraries. They're so used to going to the library on regular rotation in elementary school, but a lot of middle schools don't have the flexibility to do that, so they lose that consistency," Long explained. "In high school, they end up at the library regularly…So I had to get used to reaching out to teachers and encouraging them to bring students to the library, whether that was just for checkouts, or me doing instruction with them."
Long said her main goal is to prepare students for high school, so she teaches them a lot about research and even about citing sources. She also teaches them how to write reviews on the Online Public Access Catalog so they can learn not only how to read and critique a book, but also to write about it.
Besides educating students on the technical aspects of using the library as a resource, Long wants the library to be an open space where they feel welcomed just as they are. One way she has done this is to post a sign that states: "We welcome all races and ethnicities, all religions, all countries of origin, all gender identities, all abilities and disabilities, all spoken languages." In a video made by the American Library Association, Long shares that the sign is often cited by students as the first thing that made them feel welcome and comfortable in the school library.
---
'Our librarian has such great relationships with some students she may be the only adult in the building that some of these students have that they feel they can talk to her and it's making a tremendous difference in our school.' – Roderick Webb, former executive principal for Thurgood Marshall Elementary School.
---
Another way she makes the library inviting to students is to carefully curate the school's collection to fit the needs of its diverse student population.
"There are tons of different things that we think about in terms of what makes true diversity, because it's not just race or ethnicity, it's also abilities, it's also orientation, it's also religion or faith, or the lack of," Long said in the video.
If she doesn't have the right book for the right student, Long said she will seek it out for them. "Every child in this building deserves the opportunity to have the right book for them. And if it's not here, I'm going to find it," she said.
Long also strives to create and maintain good relationships with students, teachers and her administration. When a parent has had an issue with the library's collection, or some of the education Long is providing about certain topics – such as when a parent complained that their child knew about The National Day of Silence, which allows LGBTQIA+ members and their allies to reclaim their voice by being intentionally silent rather than silenced by others – she has been supported by the administration.
The school's former executive principal, Roderick Webb, said in the ALA video that all students in the school need to have a safe place, and it's obvious Thurgood Marshall Elementary School's library is that place – and much of that is due to the work Long has done.
"Our librarian has such great relationships with some students she may be the only adult in the building that some of these students have that they feel they can talk to her and it's making a tremendous difference in our school," he said.
It's been a joy for Long to see students who were once reluctant to discuss topics such as sexual orientation or gender identity, now speaking freely about these things.
"It's so open sometimes that I just sit back and watch and smile and marvel at how comfortable they have become with themselves, and feeling like no one is judging them," she said.
As Long continues to build on the work she's doing at the school, she is satisfied that her decision to become a school librarian was definitely the right one. She also plans to extend her service beyond her job as a school librarian by becoming president of the Tennessee Library Association in July 2020.
When asked if she's making the impact she had envisioned when she initially took on this career shift, Long said: "I think I'm fulfilling what I wanted to do, and even more."